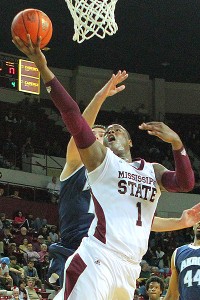 NEW YORK — Renardo Sidney
 was a massive 320 pounds when he first began to train this past summer with former NBA coach
John Lucas
. "I remember one time we was in the gym and I laid out, and he said, 'Somebody gonna get that whale out the middle of the floor?'" Sidney recalled Thursday night at Madison Square Garden.
"I know he was playing, but it kind of hurt." Now "down" to 287 pounds, the 6-foot-10 Sidney is still rounding into shape, but at least he will leave New York a champion. He tallied eight points, two rebounds and one assist Friday as Mississippi State stunned No. 15 Arizona, 67-57, in the championship game of the 2K Sports Classic Friday. "I love this team," Sidney, 21, said after his team beat Texas A&M Thursday despite him tallying 3 points on 0-for-8 shooting. "We work hard every day as a team. Last year's team, we was good but we weren't playing as a team. This team right here, I mean we can go far."No one questions Sidney's inherent talent, but many wonder if he'll ever overcome concerns about his weight and attitude. A year ago, Sidney was suspended on two occasions, once for insubordination during practice and a second time because he was involved in a televised fight with former teammate 
Elgin Bailey
 in the stands at the Diamond Head Classic in Honolulu. "I think there's a lot of wariness [about Sidney], OK," one veteran NBA scout told SNY.tv. "They're looking very closely at that. He's got a lot of talent but there's also a lot of issues there." Considered a surefire future pro when he was an agile young teenager in Mississippi, Sidney initially committed to USC. He was then set to attend UCLA, but the Bruins said, "No, thanks," because of concerns over his questionable history.  He moved from Mississippi to Southern California during high school, triggering an NCAA investigation into his housing status. Sidney said he lost the love of the game during his freshman year at Mississippi State when he was forced to sit out and ultimately gained nearly 30 pounds. "It was my freshman year," he said. "I think sitting out my freshman year took the love out. And I gained that weight and was out of shape." He added: "I'm just getting the love back." Asked if there were times basketball seemed more like a job than a passion, Sidney replied, "It's a job. I mean, we're working for Mississippi State. We're out here trying to get a 'W' and working hard so I think it's a job." Sidney spent three months this summer training in Houston with Lucas
. 
When Lucas first saw him, his only words were, "Hey, you gotta go to work." Sidney said he dropped 15 pounds in Houston to get to 295, but ultimately wants to get down to about 270. "With me being in condition, our team will go far," he said. Sidney said he's given up burgers and fries, "all kinds of stuff." "I'm just working hard every day, trying to lose weight every day," he added. During the Texas A&M, he threw up on the sideline after he said an opposing player "hit me in the stomach." "His biggest thing again is just keeping him in condition enough where he can play the amount of minutes you need him to play or play the minutes you're in there and be efficient at those minutes," Mississippi State 
Rick Stansbury
 said. "It's better than it was but he's got to keep making progress." Sidney knows that sometimes he doesn't give his best effort, either. And when that happens, Lucas isn't afraid to let him know about it. "He's gonna get on me tonight when I call him," Sidney said. "He gonna tell me I could've played harder." Sidney admits he's thinking about the NBA "probably in the future." "We'll see later on in the year," he added. In the meantime, he has the skill to contribute along with center
Arnett Moultrie
to make Mississippi State's front line as good as any in the nation. But until he loses significant weight and puts it all together, questions will linger about what could have been. "I'm just working every day, man," he said. "I'm not worried about the critics. I'm not worried about what people say. "I just go to work every day try to get in better condition, try to get a 'W' for my team."