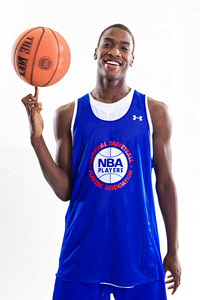 PISCATAWAY, N.J.
— In 2008,
John Calipari
coached a Memphis team that featured
Derrick Rose,
Chris Douglas-Roberts
and
Antonio Anderson.
They went 38-2, reached the NCAA championship game and came within a few Douglas-Roberts's free throws of winning Calipari's first title before losing to Kansas. Now, four years later, Calipari says his current Kentucky team is similar to that Memphis club — in terms of raw speed. "My whole team is fast," Calipari said Friday at the Brayden Carr Clinic at Rutgers. "This may be the fastest team I've coached since the 2008 team. "[
Marquis] Teague
is fast. The wings are fast. The bigs are fast.
Anthony Davis
runs the court in three steps.
Michael Gilchrist
, you've all seen him fly up and down the court.
Terrence [Jones
] runs.
Darius [Miller]
and
Doron [Lamb
], they're running better, so they're faster because they have to stay up with the pace of the game. So we're fast, we're a fast team." Still, speed isn't everything. The Wildcats have the No. 1 recruiting class in the nation, but will rely heavily on four freshmen and two sophomores. Teams like North Carolina, Ohio State, Syracuse and UConn, by contrast, have far more experience. "Our top seven are going to [include] two sophomores and four freshmen and they're saying 'Well, you've got the best team in the country,'" Calipari said. "Is that right? Have you ever coached before? Have you seen trying to get freshmen to play defense and play together and sacrifice and be their brother's keeper? It's the hardest thing you can do." DraftExpress.com has four current Kentucky players going in the top 18 of the 2012 NBA Draft. Davis is projected as the No. 1 pick, and you can
read more about him at SheridanHoops.com
. Gilchrist, the former St. Patrick star, is No. 8. 'His last practice,
Joe B. Hall
was in there and walked over to me," Calipari said, "and said, 'Oh, my gosh.'" Yes, the 'Cats are talented — and fast. But whether all that translates into Cal's first championship remains to be seen.
RELATED CONTENT
**
Calipari says UK could've been UCLA
**
Kansas expecting big years from Robinson, Taylor