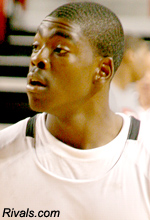 Incoming Towson freshman Kelvin Amayo of NIA Prep was denied a waiver Thursday by the NCAA, multiple sources told SNY.tv.
The 6-foot-5, 210-pound combo guard says he will now look into spending a prop year at another school that accepts non-qualifiers next season rather than attend a junior college.
"I'm looking for a big prop and I have some schools right now," Amayo said by text, declining to name the schools.
Towson does not accept non-qualifiers as part of a league rule.