Where does Seton Hall go from here?
That is the question the Pirate coaching staff and Seton Hall fans everywhere have to be asking themselves in the wake of
Kyle Anderson's
decision
to go to UCLA
. "I don't know where they go from here because they went all in and they did what they had to do," one Division 1 head coach said. "When you miss on the kid that you must get, there's no where to turn. "There's no margin for error at that level." Head coach
Kevin Willard,
pictured here watching Anderson during the Peach Jam, and associate head coach
Shaheen Holloway
did everything they could. They followed the 6-foot-8 Anderson all summer long. Everywhere. Willard was in the St. Anthony gym Monday afternoon, and in the home Monday night only hours before Anderson pulled the trigger for UCLA. They knew Anderson was a transcendent talent, perhaps the best player in America. They knew he was a recruiting magnet who could draw other talented players to the college of his choice. They knew he was the perfect answer to the troubles of recent years. He's a
Bob Hurley
kid. He's a former Paterson Catholic kid. He's a member of the Playaz Basketball Club. And above all, he's a high-character, good kid, the kind Seton Hall desperately needs to keep bringing in to change the culture of the previous regime. There's nothing more Willard and Holloway 
could have done.
Kyle Anderson Sr.
, speaking Monday on
Clay Dade's BlogTalkRadio show
, even said that if his son had opted to stay local, it would have been at Seton Hall, not St. John's.
"When it was all said and done, I think if Lil Kyle was going to stay East, he was going to stay in New Jersey," Anderson Sr. said. "He really admires coach
[Steve] Lavin
for his coaching ability and the fact that he was able to bring in that tremendous class he has coming 2011 this year. But if he was going to stay on the East Coast, a lot of times Kyle puts on his Twitter that he's repping 201, meaning New Jersey, he was going to stay home and be at Seton Hall." Anderson Sr. added that St. John's did nothing wrong, even though for a time many (myself included) thought the Johnnies were the favorite. "It had nothing to do with St. John's recruiting," he said. "They did a tremendous job, as did the other four schools. But he's a very loyal young man, and Seton Hall did a tremendous job recruiting him and telling him, and even showing him, how much they would love to have him stay here in New Jersey and be the face of New Jersey basketball. The Nets are moving over to Brooklyn, so Seton Hall would've been a very big basketball situation over here in New Jersey.
"So it had nothing to do with St. John's. They did a tremendous job.
Tony Chiles
did a tremendous job recruiting Lil Kyle. He's been on their campus several times. He really, really wanted to play in the Garden, but he is a New Jersey kid." With the "showing him" comment, Anderson Sr. was referring to the many Seton Hall fans who showed up twice at Paterson Kennedy in droves to root his son on during Fall Ball games. Aa far as conference realignment, Anderson Sr. said Syracuse and Pittsburgh departing for the ACC (and perhaps UConn and Rutgers, too) had no impact on his decision. "I don't think that weighed in at all," he said. "You still have quality programs in the Big East even with Syracuse, Pitt and possibly UConn leaving. When one door closes, another opens. I'm sure the Big East is going to fill that void with a couple quality teams from another league because it seems to be a carousel right now of teams changing around the different leagues."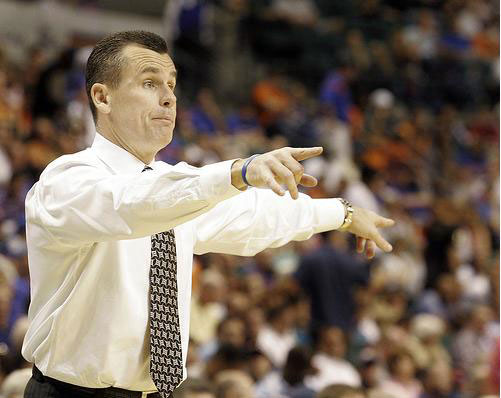 Florida, with
Billy Donovan
as head coach, was also an appealing option.
"It's kind of hard to turn down a Billy Donovan when you're looking at trying to develop and get to the next level," he said. "We've always admired Coach Donovan and his ability to develop players and win with the pieces he has. They were right up there with him.
Mike Rosario's
down there. Kyle grew up playing with Mike and looking up to Mike.
Erv Walker
is a New York kid who Kyle grew up playing right behind a couple years. He played with
Brad Beal
on the USA team out in Colorado Springs, so Florida was right in there." Still, Anderson loved Los Angeles, the Westwood area and everything that the UCLA program under
Ben Howland
has to offer. "We all know that in every aspect of life, you can't get everything that you ask for," Anderson Sr. said. "But we felt that UCLA afforded us most of the things that he needs in order to get to that next level." While Anderson will now spend his senior year playing ball in New Jersey for a Naismith Hall of Fame coach trying to win another mythical national title, the Pirates must move forward without him. Do they make a play for a
Jevon Thomas
or a
Kareem Canty
to play the point in the post-
Jordan Theodore
Era? Sure, but the hard, cold reality is that none of those players (including the current crop of freshmen guards) are Kyle Anderson, a potential program-changer who will likely land in the NBA in a year or two.
"At the mid-major level there's a lot more guys that can help you," the Division 1 coach said. "Whereas at that level there's only a few guys that can help you. And if you don't get them your [screwed]. There's only so many high-major kids." Seton Hall is still in the mix with some bigs from the area, including
Daniel Dingle
of St. Raymond's and
Chris Obekpa
of Our Savior New American, but the hangover from the Kyle Anderson Sweepstakes is sure to last a while.
RELATED CONTENT
**
Kyle Anderson is heading West
**
Anderson nearing decision
**
Pirate fans flock to see Anderson
**
FLorida visit could be critical for Anderson's choice
**
Florida gets crack at Anderson
**
Seton Hall tweet on Anderson not a big deal
**
Seton Hall fans cheer Anderson
**
Kyle Anderson chats with Baron Davis on SJU visit
**
Anderson talks Georgetown visit
**
Anderson enjoys Seton Hall visit
**
Anderson set to visit Seton Hall, St. John's
**
Anderson delays Georgetown visit
**
Anderson, Muhammad talking about combining at UCLA
**
Kyle Anderson sets visit schedule
**
Anderson, Calhoun lead Team NYC over Team USA
**B
ig Apple finally gets a new all-star game
**
Anderson plans UCLA, Florida visits
**
Coaches working down to wire on Anderson
**
Anderson, Canty could play together in college
**
Roberts keeping Florida in Kyle Anderson Sweepstakes
**
Kyle Anderson Sweepstakes heating up
(Photo courtesy NY Post)