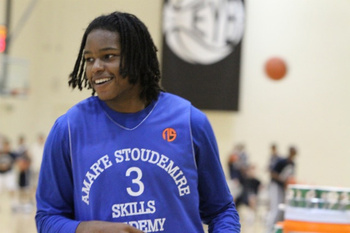 NORTH AUGUSTA, S.C.
— At 6 feet, 8 inches tall and 245 pounds,
William "Shaq" Goodwin
certainly looks like a football player.
And in fact, he is one, playing defensive end and tight end at Decatur (Ga.) Southwest DeKalb High. But this summer Goodwin's stock in
basketball
has risen dramatically as he helped the Memphis YOMCA AAU team reach the finals of the prestigious Peach Jam event with a 29-point, 12-rebound performance in the semifinals against the Georgia Stars. Goodwin teamed with fellow 6-8 big man
Jarnell Stokes
to form a powerful one-two punch down low. A confident, outgoing young man, Goodwin says he believes he can play
both
football and basketball in college and his current list consists of Memphis, Alabama, Georgia, Florida and UCLA. They take football pretty seriously at those schools. Can Goodwin imagine the football coach letting him play both sports? "Yeah," he said, "that's why they're in my top [five]. And some people say, 'Well, since the seasons overlap, does that matter?' No, it doesn't matter, so you don't have to ask me that question." The national championship game in football is set for Jan. 9, 2012, meaning Goodwin could theoretically be busy on the gridiron until the basketball season is well underway. "Then I'll be a national champion," he said. His official visits will also be somewhat complicated because he'll have to meet with
both
the football and basketball staffs. "I just know you can take five officials," he said. Goodwin is so committed to playing football that he said he likely wouldn't strongly consider a school that wanted him for hoops only. "I would look at them, but they wouldn't be in my top five," he said. Goodwin began playing football when he was 4 years old, but didn't start basketball until he was 11. "Just picked up good on it [basketball] because I was athletic," he said. Goodwin hit a major growth spurt from 8th grade to 9th grade, when he grew from 6-2 to 6-6. "Shaq is a freak of nature," YOMCA assistant
Jevonte Holmes
told the Memphis Commercial Appeal. "He's actually still 16 years old, so he's still a big kid, but he understands how to play basketball."
As far as his college plans, Goodwin has some unique connections to UCLA.
Korey McCray,
his former AAU coach, is now an assistant on
Ben Howland's
staff at UCLA.
Jordan Adams,
Goodwin's teammate with the Atlanta Celtics, also verbally committed to the Bruins in June. "It's good that I know two people that go there, but that's not going to play a big factor" he said. Other than the UCLA visit, Goodwin says he's up in the air about his future. "Right now, those top five are where I plan on taking my officials," he said. "But I'm open to any other schools if my mind changes."
RELATED CONTENT
**
Memphis the big winner at Peach Jam
**
Stokes outplays Coleman in battle of big men