NEW YORK —
The decline of New York City basketball has been a hot topic in recent months. Last November,
The Wall Street Journal
ran a much-talked about piece entitled, "New York Loses Allure as a Basketball Mecca." The article pointed out that "the city hasn't produced a consensus first-team All-American since 1993 when
Jamal Mashburn,
the University of Kentucky forward from Cardinal Hayes High School, was so honored" and that "no player born and raised in New York has been elected to the Naismith Memorial Basketball Hall of Fame since 1996, and that individual was a woman,
Nancy Lieberman
."
Yet during Thursday's NBA Draft, New York could enjoy a boost when two players,
Kemba Walker
of UConn and
Tobias Harris
of Tennessee, are expected to go in the first round, while Hofstra's
Charles Jenkins
is projected as a second-round pick. "One, it's a great accomplishment if all three of those guys get drafted," said
Kimani Young
, an assistant coach at Rice High School, which produced Walker. "If all three of those guys go to the NBA and have success it will motivate some of the younger players that are in high school now and will motivate them to try and work hard and do the same." "Guys like Kemba, Tobias and Charles, [New York City] kids that are in high school or in college have all played with or against those guys." Walker, who led UConn to Big East and NCAA championships as a junior, said Wednesday he's excited to learn his fate. "Anxious, excited, nervous," he said. "I'm ready, ready to find out where I'm gonna be." He said he wished the draft was going to be held at New York's Madison Square Garden instead of Newark's Prudential Center, but added, "I just want to be in the NBA." DraftExpress.com projects that Walker will go at No. 11 to the Golden State Warriors, and although no one can say for certain, he is expected to become UConn's 11th lottery pick. The latest in a long line of great New York point guards, Walker possesses tremendous quickness with the ball, a great step-back move and a tremendous will to win.
"He's going to be a great player when he gets to the NBA because his drive, his passion and his will to win are all off the charts," UConn assistant
Kevin Ollie,
who played 13 seasons in the NBA, told the New Haven Register. "Every level he's been at, he's been a winner, so I don't see that changing when he gets to the NBA." If he goes in the top 10 or 11 as expected, Walker would be the highest New York City player drafted since
Lamar Odom
, a Christ the King product, was chosen fourth overall by the Los Angeles Clippers in 1999.
Odom nearly became a big factor in this current draft when the Lakers tried to deal him to the Minnesota Timberwolves for the No. 2 pick, likely Arizona's
Derrick Williams.
The
talks reportedly broke down when the Wolves asked
for
Pau Gasol
or
Andrew Bynum
instead.
The same year Odom was initially drafted,
Ron Artest
of LaSalle Academy and St. John's was passed over by the Knicks and taken by the Chicago Bulls at No. 16. While both Odom and Artest have won NBA championships with the Lakers, New York's more recent stars have struggled.
Sebastian Telfair
of Lincoln was taken No. 13 by the Portland Trail Blazers in 2004, but has had an unremarkable NBA career.
Lance "Born Ready" Stephenson
, the all-time leading scorer in New York State history, was taken in the second round last year and barely played as a rookie in Indiana.
"Sebastian, they put him on pedestal when he was in 8th grade, I think," Nets general manager Billy King said last week. "Nobody's going to live up to that.
"I think people are trying to say, 'OK, these are guys are going to be superstars' and they're not. It's hard to project somebody in 8th grade and say they're going to be a superstar." Unlike Telfair and Stephenson, Walker was a late-bloomer who likely would've landed at Cincinnati if UConn coach
Jim Calhoun
hadn't swooped in at the last minute.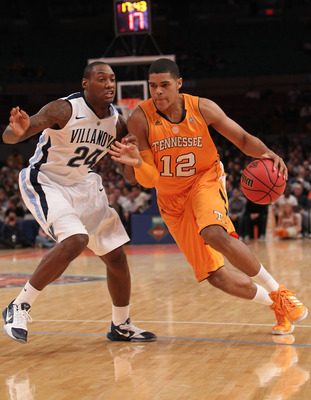 The 6-7 Harris is not strictly a New York City guy, having grown up in Dix Hills, N.Y., but he is projected to go in the mid- to late- first round.
"He's an all-around player," former Tennessee assistant
Steve Forbes
told NBA.com. "I don't know if he has one certain skill that you say is NBA, like, 'wow.' But his all-around game, and his basketball IQ … put it this way: He'll be able to pick things up pretty quickly in the NBA. And as he matures and gets older, his game will catch up." The 6-3 Jenkins played at Springfield Gardens High in Queens and is Hofstra's all-time leading scorer. Jenkins is motivated to earn an NBA paycheck in order to provide for his niece,
Kemoni Allbriton
, the daughter of Jenkins' late brother Kareem, who was shot and killed in Brooklyn in 2001. "Every time I step on the floor I always have a bad thought in my head of her not eating," Jenkins said "This is motivation for me to have the opportunity to at least get her a bank account so where she has her own money to rely on if she doesn't have it." If all three players are drafted, as expected, it won't suddenly erase all the concerns about Big Apple basketball. But if these guys go on to have productive NBA careers, perhaps the critics won't cry so loud.
RELATED CONTENT
**
Tristan Thompson wants to dunk on Kyrie Irving
**
Kanter says he's best player in the draft