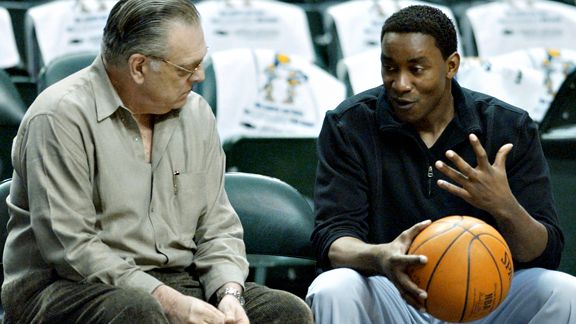 Is
Isiah Thomas
the man behind the curtain?
That's what an old friend of
Donnie Walsh
wondered after the Knicks announced Friday that Walsh's tenure as Knicks President would come to end June 30. "You wonder who's standing behind that curtain because you get a feeling someone's standing behind the curtain," the friend said by phone. Thomas, the former Knicks coach and President, has made no secret of the fact that he wanted to replace Walsh once the older man retired. On Friday, that happened sooner than some had expected. The 70-year-old Walsh said he simply didn't have the "energy" to go forward with a multi-year extension with the Knicks. He said he would've considered coming back for one year, but said that wouldn't have been fair to the organization. "It's not health issues," Walsh said in a conference call. "It's more you're getting older and you just don't have the energy. "[Former Utah Jazz coach]
Jerry Sloan
said that at his press conference, and I could relate to that."
Glen Grunwald
will run the Knicks on an interim basis, but Thomas longs to return to the Garden from his exile at Florida International, where he is coach of a team that has gone 18-44 in two seasons in the Sun Belt Conference. Thomas didn't immediately return a call to his cell phone or his basketball office Friday, but in November he told ESPNNewYork.com that he hoped to replace Walsh. "Every single day of the week," he said then. "When I look at my GM/executive record, if I'm evaluated on that, then whoever's after Donnie, if you're not talking about some of the top people in the game, I'll put my draft evaluation record up against anyone's."
Thomas coached the Knicks from 2006-08 and posted an overall winning percentage of .341, fifth lowest in team history. Off the court, Garden executive
Anucha Browne Sanders
won her sexual harassment case against the Garden and Thomas and a jury gave her $11.6 million in punitive damages. Thomas burdened with Knicks with a collection of disastrous high-priced contracts –
Vin Baker, Jerome James, Jared Jeffries.
When Walsh came in, he spent two years slashing payroll and getting rid of those types of players so that the Knicks could pursue
LeBron James
and other free agents last summer. "The guy has worked a miracle down there in a short time," Walsh's friend said. "He gutted the roster, and he came up with two of the better players in the NBA in [
Amar'e] Stoudemire
and [
Carmelo] Anthony
and they're on their way. "He made basketball relevant again in New York." Still, Knicks owner
Jim Dolan
attempted last summer to bring Thomas back as a consultant but the move was quashed by the NBA after college coaches like
Jim Boeheim
and
Mike Krzyzewski
spoke up about the inherent conflict of interest in having a college coach also advising an NBA team. "I don't think Isiah Thomas had anything to do with basically anything I'm doing right now," Walsh said. "He has nothing to do with that. "The attention it drew did annoy me at certain points, but not overly so. But it was an annoyance. It wasn't like really getting pissed off-ness, it wasn't that. And I've always had a relationship with Isiah, and I'm not going to give that up because everybody's talking or writing about it and all that."
As Walsh rides off into the sunset, everyone is still talking and writing about Isiah. Is he the man behind the curtain? (Photo courtesy AP/Darron Cummings)
And like ZAGS on Faceboo
k