NEWARK — Tyler Ennis
admits he considered bolting St. Benedict's Prep.
His former head coach, the onetime St. Anthony and Duke standout
Roshown McLeod,
had been dismissed in early April, and virtually the entire St. Benedict's team soon followed him out of the building. By late April, Ennis and rising sophomore
Jack Dwyer
were the only players remaining on the team. "After Coach McLeod left and they didn't have a head coach and school was done [for spring break], I was thinking of looking at other places," Ennis said in an interview earlier this week. The loss of the 6-foot-3 Ennis would have been devastating for St. Benedict's, a strict academic institution that former coach
Dan Hurley
built into a national power over a nine-year tenure before leaving a year ago for Wagner College and being replaced by McLeod. Ennis, after all, is a talented junior point guard from Canada who holds offers from
West Virginia, Seton Hall
and
Rutgers
and has interest from
Kentucky, Georgetown, Providence, Florida, Wake Forest, Virginia Tech
and
Temple.
His older brother,
Dylan Ennis,
will be a freshman point guard on the Rice University team this season. If Ennis had left, St. Benedict's would have essentially been starting over from scratch. But if he opted to remain, the new coach would inherit a playmaking building block who makes everyone around him better.
TAYLOR TAKES OVER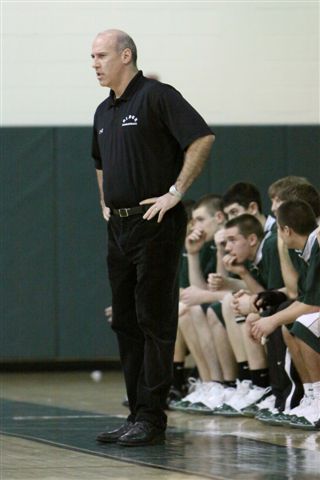 Enter
Mark Taylor.
The former coach at St. Joe's-Metuchen and Ridge High Schools, Taylor was hired on a part-time basis in late April to succeed McLeod. He will not teach at the school and he said his job will grow into a full-time position over the next two years.
Father Edwin Leahy,
the school's no-nonsense principal
,
chose Taylor to restore some order to a program that he felt had lost its way during a 13-12 campaign. "It was just bad fits," Father Ed said of the players on last year's team, many of whom never returned to the school after spring break this year. "The problem I believe last year had nothing to do with Ro. It had to do with the culture of basketball, which I probably have said to you before is the worst thing that's ever happened to African-Americans ever. "As a result, when coaches change, a lot of these kids, the advice they get from adults is, 'You better look for someplace else.' So actually the problem happened when Danny left because Danny left and kids leave. So Ro walks in here and has to try to find a team out of virtually nobody. "I wouldn't in a millions years lay the problem at Ro's feet. I don't think the problem was anybody specifically's fault. I just think it's what happens in the sport. There's no loyalty to a place. All they're looking for is what they can get." McLeod, who politely declined comment for this story, initially announced that he had resigned, but the truth was that Father Ed felt a change was needed.
Ennis said many of the players simply couldn't handle the rigorous academic and dorm life that is part of daily life at St. Benedict's. "I think it was more the dorm life and the school because we had only one player on the team who didn't live in the dorm," he said. "I don't think a lot of them were ready to start living in dorms and live away from home and stuff like that, so I think that put a negative look on the school. They didn't really want to come back and live in the dorms." Taylor, 46, is an outgoing, confident guy who, like McLeod, has a strong basketball lineage. He played with current Rutgers coach
Mike Rice
at Fordham (He says he will help Rice "whenever I can") and later coached future NBA players
Jason Williams
and
Andrew Bynum
at St. Joe's. He helped turn the Ridge program around and owns a career record of 266-111. "They see the track record," Taylor said. "I've had 13 Division 1 players now in [high] schools that aren't really at the level of St. Benedict's and St. Anthony and St. Pat's, some of these programs that are generating [players] year after year." Upon getting the job, the first call Taylor made was to
Tony McIntyre
, Ennis' father and his AAU coach with CIA Bounce. "He called me when I was home [in Canada]," Ennis said. "I got to know him. He told me about his history and who he coached and everything. He told me he wants to get me down at school as soon as possible to start working out for next year already. So I came back and we're trying to build a squad again."
BUILDING WITH YOUNG PIECES
That squad will revolve around Ennis at the point and 6-2, 180-pound rising freshman guard
Isaiah Briscoe
of Newark, the No. 1 eighth-grader in the state, at the two guard. "He's a great kid," Taylor said of Briscoe. "He's a super player." Like Ennis, Briscoe has a sibling playing Division 1 ball. His sister, former Shabazz High star
Iasia Hemingway
, is a junior at Syracuse, and Briscoe said he's worked out at Syracuse. And like Ennis, Briscoe and his father considered finding another school once McLeod left. They had initially chosen St. Benedict's over Hudson Catholic, St. Peter's Prep, St. Patrick, Seton Hall Prep and Blair Academy when McLeod was coach.
"Absolutely," said
George Briscoe,
Isaiah's father. "I wasn't sure the stability of the school as far as athletics were concerned. But I always had it in the back of my head that I wanted him to stay here because of the academics and he's a Newark kid." Once the Briscoes met Taylor, they, too, were persuaded to remain. "I knew him from Ridge and St. Joe's," George said. "I always loved the way he coached. I loved the way he got the most out of almost nothing." "I came and met coach and I still feel good about the decision," Isaiah said. "As long as you play defense, he lets us go on offense, and that's what I like," he added.
A RETURN TO GLORY
Growing up in the Brick City, Briscoe watched Hurley's powerhouse teams at St. Benedict's often play on ESPN and in national showcase events.
One of those teams once featured
Samardo Samuels (Louisville), Corey Stokes (Villanova), Eugene Harvey (Seton Hall)
and
Lance Thomas (Duke).
Tamir Jackson,
who will team with
Dylan Ennis
at Rice, returned to St. Benedict's this week along with his young cousin and fellow Paterson native,
Alphonso Gee
, who is hoping to attend St. Benedict's. Jackson, who once hung 29 points on
Brandon Jennings
and then-No. 1 Oak Hill Academy, said he planned to work out with the young St. Benedict's players and give them the benefit of his knowledge. "I'm just hoping to show them how Division 1 athletes work out, how intense we work out and how poised we play, just try to teach them the game," he said. "Because I know coming out of high school I thought I knew everything." If the Gray Bees are to return to their former glory, Taylor must continue to stockpile talented, character players to compete alongside Ennis and Briscoe. Ennis is already talking to several of his Canadian AAU teammates about coming to the school, and Taylor says he has firm commitments from eight new players. "It's an opportunity to get the right players and the right fit for both Coach Taylor and St. Benedict's, which I think is important," Taylor said. As far as scheduling, Taylor and athletic director
Jimmy Wandling,
the school's soccer coach, have the team playing in events in Toronto, South Carolina and North Carolina. St. Benedict's will play St. John's-bound point guard
Jevon Thomas
and Our Savior at the Newark National Invitational in January. And Taylor said he would like to get St. Anthony and St. Patrick into the event as well. He also mentioned trying to bring up former St. Patrick coach
Kevin Boyle
and Montverde Academy for the tournament.
The Gray Bees will matchup against St. Patrick — which also features a first-year coach in 
Chris Chevannes
— at the PrimeTime Shootout in February.
'I'M NOT DANNY HURLEY'
Taylor understands that the Dan Hurley Era is forever over. He respects the history, but he's moving forward. "Danny Hurley did a great job," he said. "But that's Danny Hurley. I'm Mark Taylor, and we're going to do it a little bit different, but we're hoping we have similar results…You know what my main goal is? That every kid gets a full scholarship to college. That's my No. 1 goal."
For his part, Father Ed says he's less concerned with lofty national rankings and more with providing the kids with the proper environment in which to learn and grow.
"Do I think we have to be the No. 1 basketball team in the country?" he asked. "No. Do I think these guys have to have the best possible teacher that they can get? Yes. "That's all my job is, the math class, the chemistry class, the wrestling room, the basketball class is to get the best possible adults around these kids — that's all — who are demanding, who are going to push them. and whatever the results are, the results are." For Ennis, the talented point guard who took a risk in staying when he could have left for greener pastrues, he's looking forward to restoring St. Benedict's to the Top 25 of the national rankings and to making the Gray Bees a factor once again. "It will be good," he said, "because having only two returning players and getting to the Top 25 that shows that we made such a lot of improvement in such a short time."
RELATED CONTENT
**
McLeod resigns from St. Benedict's
**
Taylor named new coach at St. Ben's