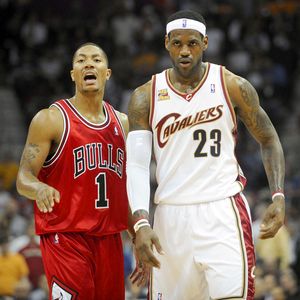 Derrick Rose
, this year's NBA MVP, and
LeBron James
, winner of the
two previous MVP awards, highlight the 2010-11 All-NBA First Team. James was the lone unanimous choice, receiving all 119 first-place votes. Joining James and Rose on the First Team are
Kobe Bryant
of the Los Angeles Lakers,
Kevin Durant
of the Oklahoma City Thunder and
Dwight Howard
of the Orlando Magic. Earning his first All-NBA team selection, Rose led the Bulls to an NBA-best 62-20 mark. He averaged team highs of 25.0 points and 7.7 assists to go along with 4.1 rebounds, becoming only the seventh player in NBA history to average at least 25.0 points, 7.5 assists and 4.0 rebounds. Rose was the only player in the NBA to rank in the top 10 in scoring (seventh) and assists (10th). James, who earns First Team honors for the fourth straight season and fifth time overall, was second in the NBA in scoring (26.7 ppg), and averaged team highs in assists (7.0 apg) and steals (1.57 spg) to go along with 7.5 rpg. James became the first player in history to surpass the 2,000-point, 500-rebound, 500-assist and 100-steal marks in four consecutive seasons. Howard, an All-NBA First Team selection for the fourth consecutive season, earned the 2010-11 Kia NBA Defensive Player of the Year Award, becoming the first player to win the award three straight seasons. He led the league with 66 double-doubles, while ranking second in rebounds (14.1 rpg) and fourth in blocks (2.38 bpg). Howard also averaged a career-high 22.9 points. Bryant, an All-NBA First Team selection for the sixth straight season and ninth time in his career, finished fifth in the league in scoring (25.3 ppg), while averaging 5.1 rebounds and 4.7 assists. Among active players, Bryant is tied with the San Antonio Spurs'
Tim Duncan
for most First Team selections. Durant earns his second All-NBA First Team selection. Durant led the league in scoring (27.7 ppg) for the second consecutive year, to go along with 6.8 rebounds and 2.7 assists. Durant scored at least 40 in a league-high five games this season.
The All-NBA Second Team consists of guards
Dwyane Wade
of the Miami Heat and
Russell Westbrook
of the Oklahoma City Thunder, forwards Pau Gasol of the Los Angeles Lakers and
Dirk Nowitzki
of the Dallas Mavericks, and center
Amar'e Stoudemire
of the Knicks.
The All-NBA Third Team includes the San Antonio Spurs'
Manu Ginobili
and the New Orleans Hornets
' Chris Paul
at guard, the Portland Trail Blazers'
LaMarcus Aldridge
and the Memphis Grizzlies'
Zach Randolph
at forward, and the Atlanta Hawks'
Al Horford
at center. The All-NBA Teams were chosen by a panel of 119 sportswriters and broadcasters throughout the United States and Canada. Below are the results of the voting for the 2010-11 All-NBA Teams, with First Team votes in parentheses:
2010-11 ALL-NBA FIRST TEAM
Position      Player, Team (1st Team Votes)   Points
Forward      LeBron James, Miami (119)        595 Forward      Kevin Durant, Oklahoma City (69)           492 Center         Dwight Howard, Orlando (118)    593 Guard         Kobe Bryant, L.A. Lakers (98)     551 Guard         Derrick Rose, Chicago (118)       593
2010-11 ALL-NBA SECOND TEAM
Position      Player, Team (1st Team Votes)   Points Forward      Pau Gasol, L.A. Lakers (2)         259 Forward      Dirk Nowitzki, Dallas (47)            437 Center         Amar'e Stoudemire, New York (2)           258 Guard         Dwyane Wade, Miami (24)          392 Guard         Russell Westbrook, Oklahoma City         184
2010-11 ALL-NBA THIRD TEAM
Position      Player, Team (1st Team Votes)   Points Forward      LaMarcus Aldridge, Portland      135 Forward      Zach Randolph, Memphis          67 Center         Al Horford, Atlanta        62 Guard   Manu Ginobili, San Antonio        106 Guard Chris Paul, New Orleans       157 Other players receiving votes, with point totals (first team votes in parentheses): Rajon Rondo, Boston, 68; Paul Pierce, Boston, 55; Carmelo Anthony, Denver-New York, 53; Kevin Love, Minnesota, 48; Tim Duncan, San Antonio, 43; Blake Griffin, L.A. Clippers, 36; Tony Parker, San Antonio, 27; Kevin Garnett, Boston, 22; Deron Williams, Utah-New Jersey 19; Steve Nash, Phoenix, 17; Andrew Bogut, Milwaukee, 13; Monta Ellis, Golden State, 11; Nene, Denver, 11; Andrew Bynum, L.A. Lakers, 9; Kevin Martin, Houston, 7; Tyson Chandler, Dallas, 7; Joakim Noah, Chicago, 5; Marc Gasol, Memphis, 3; Al Jefferson, Utah, 3; Kendrick Perkins, Boston-Oklahoma City, 3; Andrea Bargnani, Toronto, 2; Chris Bosh, Miami, 2; Andre Iguodala, Philadelphia, 1; Emeka Okafor, New Orleans, 1; Eric Gordon, L.A. Clippers, 1; Gerald Wallace, Charlotte-Portland, 1; Jason Kidd, Dallas, 1; Luis Scola, Houston, 1; Luol Deng, Chicago, 1;  Ray Allen, Boston, 1 (Release courtesy NBA)