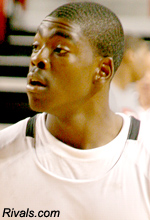 Kelvin Amayo
wants to play in the Big East Conference but is uncertain if he will end up there.
Amayo's teammates at Newark Nia Prep,
Shaquille Thomas
(Cincinnati) and
Ryan Rhoomes
(TCU), are both headed to the Big East (TCU beginning in 2012), and he wants the chance to compete against them. "I want to play against Shaq and Ryan," the Hillside, N.J., said Friday by phone. "I gotta kill Shaq and Ryan when they get to the Big East." Right now, the 6-foot-5, 210-pound Amayo is considering Seton Hall, Towson and the College of Charleston. He will take officials next week to Towson (Tuesday) and Charleston (Thursday). Obviously, Seton Hall is the only Big East school in the mix. Amayo said he met with Seton Hall coach
Kevin Willard
this week and that the Pirates see Amayo as a wing player who can back up rising sophomore
Fuquan Edwin
of Paterson, N.J. "He was just telling me if I want to go there, Fu is on the wing," Amayo said. "They would want me to play on the wing." Seton Hall could start a lineup that features
Jordan Theodore
at the point, incoming frosh
Aaron Cosby
at the two, Edwin at the wing,
Herb Pope
at the four and incoming big man
Kevin Johnson
at the five. Amayo sees himself as multi-faceted player who can play the one, two or three and he said both Towson and Charleston are offering the chance to play in the backcourt. "The reason why I'm going to take an official to Towson is Coach [
Pat] Skerry
has been recruiting me since my sophomore year when he was at Providence and he was recruiting me when he was at Pitt," Amayo said. "I have to go up there and see what he's talking about. And he's talking about building a team around me."
As for Charleston, he said, "They want a big time player to average double-figures and play the one and the two." He added: "At Charleston and Towson, I could play the point more than the wing. Point guard and shooting guard. I can get the rebound and lead the break, running the team." Amayo recently visited Rice, which also features Paterson guard
Tamir Jackson,
but said they are off his list now. "I'm not really looking at Rice anymore," he said. "It's a great school. It's a little bit too far away for me. It's a great area, the campus is perfect." Rutgers was also in the mix but Amayo said they made him wait too long before deciding what to do. Ultimately, Rutgers landed New Jersey native
Eli Carter
to play the two guard and Amayo says he has no hard feelings. "They got one of my best friends," he said of Carter. "He's a great guard. It's no hard feelings, they got a great guard. But they made me wait for two months." So after next week, Amayo will have taken three officials — Rice, Towson and Charleston — leaving two remaining. He said he plans to reconvene with Seton Hall after the visits to see where he stands, and may take an additional official as well. "I'm probably going to take all my five officials most likely," he said. Still, his ultimate goal remains the same. "My ultimate goal," he said, "is to play in the Big East."
RELATED CONTENT
**
Rutgers' Rice excited about Carter, young guards
And like ZAGS on Facebook.