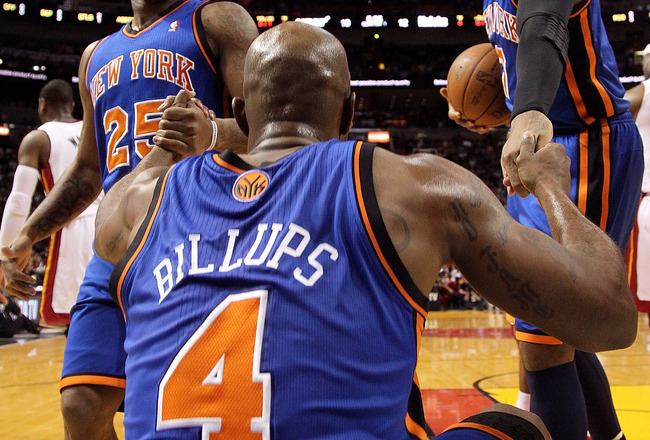 NEW YORK
—
Chauncey Billups
can't play Game 4 for the Knicks against the Boston Celtics, but he would like to return to New York next season.
"Yeah, sure," he said in the locker room before Game 4. "I would love the opportunity to really try it up with these guys. Not like play 30 games after a trade. Like really have a season, have an opportunity to really get a fair shake with these guys. I would love to." The Knicks have a $14 million option on Billups and team president
Donnie Walsh
said he hadn't made a decision yet on what to do with the 34-year-old point guard. "I don't have to make a decision right now so I'm not going to do anything," Walsh said before Game 4. If the Knicks don't pick up his option, they could still opt to re-sign him at a cheaper rate. "That's something that I would think about when the time comes," Billups said. "I'm not really going to discuss what it might be after that. I'm hoping for the best, like I said." He said he hasn't received any indication from the Knicks about their plans. "My agent talks with them," he said. "That's what he do, that's his job. So I let him do that. And when that time comes, cross that bridge. We'll sit down and we'll talk and we'll meet and see what's best." Billups hasn't played since the final minute of Game 1 because of a strained left knee and said he just couldn't play in Game 4. He wouldn't say if he's done for the series should the Knicks win Sunday. "I'm never going to say I'm done," Billups said. "If I felt that way I would say that, of course. But I don't think that I'm done at all. It just takes time and I haven't been blessed with a lot of time in this situation. But I will say that it's feeling better every day.
"But it's just not there man, it's not there." On Saturday, Walsh said Billups' rash of injuries since being acquired in the
Carmelo Anthony
trade
would not impact his decision about the future
. And Billups said he's not worried about his body falling apart as he gets older. "This injury right now or the bang to the thigh, that has nothing to do with age," he said. "They did an MRI, looked at my knees and they look like they're 22 years old. Maybe that's because I'm not a jumper. I have no issue, my body's good. I'm in great shape. I don't believe at all that the two injuries I sustained that made me lose a couple games this season since the trade has anything to do with age or how many years I've played." Billups said he had no doubt that the Knicks would've won Game 1 had he been healthy. "I feel like if I could have finished Game 1, we definitely come away with that win," he said. "Game 2, you can never really say. But I feel like we could have won the series, I really do."
RELATED CONTENT
**'
Melo: 'I don't want to get swept
'
**
Knicks' Walsh uncertain about future
**
Injured Knicks don't have the horses to compete