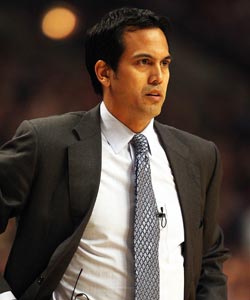 NEW YORK — In the wake of the Miami Heat "crying" scandal, Knicks coach Mike D'Antoni says there's nothing wrong with grown men crying.
D'Antoni was referring to Miami coach Erik Spoelstra saying "tears were shed" after the Heat lost Sunday to the Chicago Bulls, raising the specter that the Heat are soft and not primed for a playoff run.
"He's just being honest, and it happens. There's nothing wrong with crying," D'Antoni said Monday before the Knicks hosted the Utah Jazz at MSG. "Don't we have a Speaker of the House [who] cries. It's OK."
John Boehner, the new Speaker of the House, has cried repeatedly in public, including during a "60 Minutes" appearance.