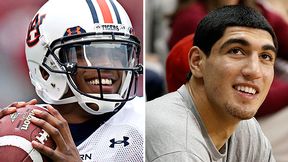 Two days after the NCAA's controversial
Cam Newton
ruling, Kentucky asked the NCAA to take a second look at the eligibility of freshman center
Enes Kanter.
The school and the
NCAA issued a joint statement Friday saying Kentucky has asked for an opportunity to submit additional information about Kanter's eligibility. "When a school receives new information that could impact a student-athlete's eligibility, it is a standard NCAA process to provide the university with an opportunity to resubmit the case for consideration," the statement said. Kentucky's request came two days after the NCAA caused a stir by declaring  Newton, the Auburn quarterback, eligible.
Mark Emmert,
the new NCAA president, acknowledged the Newton case created a loophole in the rules that had to be addressed. "We recognize that many people are outraged at the notion that a parent or anyone else could 'shop around' a student-athlete and there would possibly not be repercussions on the student-athlete's eligibility," he said in a statement. "I'm committed to further clarifying and strengthening our recruiting and amateurism rules so they promote appropriate behavior by students, parents, coaches and third parties. We will work aggressively with our members to amend our bylaws so that this type of behavior is not a part of intercollegiate athletics,"
The NCAA student-athlete reinstatement staff ruled the 6-foot-11 Kanter permanently ineligible last month because he received benefits above his actual and necessary expenses while playing for his Turkish basketball club. The NCAA decided Kanter received over $33,000 above his necessary expenses for the 2008-09 season. Kentucky coach
John Calipari
has maintained Kanter remained an amateur while playing for the club team, saying a portion of the extra benefits were for "educational" purposes and that Kanter's intent was not to become a professional.
The school appealed the initial decision before opting to ask for the chance to offer new information. Kanter is allowed to practice with the team while the situation remains in review. The 10th-ranked Wildcats play North Carolina on Saturday. (The AP contributed)