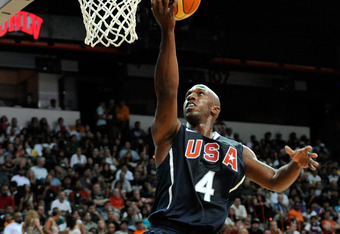 GREENBURGH, N.Y. — Chauncey Billups
may have some insight on what
Carmelo Anthony
plans to do next season, but he isn't giving it up.
"Yeah, of course, but I'm not going to let y'all know," Billups told the media after Team USA practice Friday at the Knicks' training facility. "It's between me and my guy. If y'all have a close personal friend and they're going through something and the media asks, you're not going to expose that. That's what a relationship is all about. When I speak to him, it's between me and him. Y'all find out when he wants y'all to know." Anthony has hinted that he may want to join
Amar'e Stoudemire
with the Knicks when he becomes a free agent in 2011, but he could also opt to sign a three-year, $65-million extension with the Denver Nuggets. Still, Billups said he's optimistic Anthony will re-sign. "One hundred percent hopeful," Billups said. "It's tough for me to even talk to him without being biased because I'm in a situation [as his teammate]. But my friendship is bigger than that. I take my bias out of it as best I can when I speak to him." Anthony,
LeBron James
and
Chris Paul
appeared at Radio City Music Hall Thursday night to watch Team USA scrimmage, but Anthony declined to comment on his future with the Nuggets. He did commit to playing for Team USA at the 2012 London Olympics. "Of course," Anthony said in an interview on the court during a timeout. "I'm locked in. I'm committed." Whether or not Anthony remains in Denver, Billups wants to. He has a team option for $14.2 million in 2011-12, when there may or may not be an NBA lockout.
"They got something bigger at stake with 'Melo but I would love to finish my career  as a Nugget," Billups said. Billups also said he believes former Knick
Al Harrington
will be a strong addition to the Nuggets this season after signing as a free agent. "I thought it was great for us," Billups said. "I know Al really well. We worked out together for the last 10, 11 years in the summertime. I think for the way that we play, we've been looking for a shooting big anyway for a couple years now. And I think he's going to do well for us." Asked if Harrington was under-appreciated in New York, Billups said, "I think so. He had some good times and obviously he had some stretches where he didn't play that well. But that's the nature of the beast. I thought he could've been very, very valuable here as a Knick." Billups said Harrington would benefit from a change of scenery and from the leadership that Billups will provide. "I think a guy like Al is going to benefit from the leadership that we have there," he said. "I'm not going to let him get away with being sub-par or not playing defense or not rebounding and still wanting to shoot the ball. I'm not going to have that and I think that he will benefit more from that than anything." Billups was also asked about another former Knick,
Stephon Marbury
, now playing in China. "Steph is Steph, man," he said. "Y'all know Steph. He kind of toots to his tune, man, and that's just kind of been him since high school. Really I'm just happy that he's playing basketball again because I know he still loves the game and he still has a lot to give the game basketball.
"I wish he was playing in the NBA. I feel like he's  still an NBA player." Marbury is trying to sell his sneakers in China and Billups said, "Steph has always kind of been ahead of the curve as far as business and always being innovative with little things that he tries to do. So I'm sure that whatever he's doing over there in China, it's gonna work out big for him." (The AP contributed)
Follow Adam Zagoria on Twitter