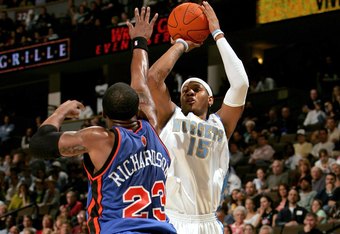 NORTH AUGUSTA, S.C. — Jim Boeheim
isn't certain whether
Carmelo Anthony
will ever help the Knicks, but he believes
Andy Rautins
can right away.
While watching the Peach Jam this past week, the Hall of Fame coach from Syracuse chimed in on both former players. Boeheim attended Carmelo's
recent wedding in New York
but said he wasn't sure if Anthony might want to come to the Knicks in 2011 as a free agent. "I have no idea, he has no idea," Boeheim said. "That's a long ways away. There's a lot of contract talk. He's got a contract on the table. If he doesn't sign it, with the new collective bargaining agreement coming who knows how the money will change. It could change a lot." Another source close to the situation said he could see Anthony's wife,
LaLa Vazquez
, wanting to come to New York since she was born in Brooklyn. "I think his surrounding people would like to see him go to New York," the source said. As for Rautins, whom the Knicks took with the 38th pick in the Draft, Boeheim believes he can help. "I think he can," the coach said. "He's a tremendous shooter, passer and ball-handler. I think he's a very skilled offensive player and those guys do well in
Mike [D'Antoni]'
s system. I think he could do very well. He's a big-time shooter and he's got good size. He really knows how to play. I think he could surprise some people and do well in New York." Boeheim and D'Antoni are both assistant coaches on Team USA this summer for the upcoming World Championship in Turkey. The team will train July 19-24 in Las Vegas, before reconvening in New York for the World Basketball Festival in August. The roster includes current Knick
Amar'e Stoudemire
and former Knick
David Lee
, as well as
Kevin Durant, Rajon Rondo, Chauncey Billups
and
Derrick Rose.
"Mostly young guys," Boeheim said.
LeBron James, Dwyane Wade
and Anthony are all out for various reasons. But, referring to the 2012 London Olympics, Boeheim said: "When we need them, they'll be there."
(Photos courtesy Getty Images)