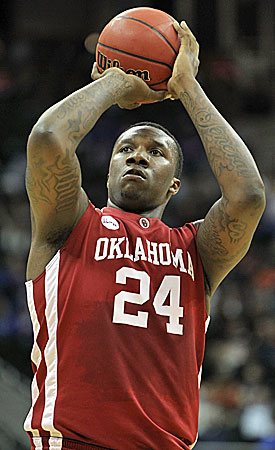 GREENBURGH, N.Y.
—
Keith "Tiny" Gallon
says his mother needed $3,000 from a former Merrill Lynch financial adviser to get his high school transcript released so that he could attend Oklahoma University.
"Oak Hill wouldn't release my transcript under no circumstances and my mother had to do what she had to do," Gallon said Thursday following a workout with the Knicks at their training facility. "It wasn't an agent, it was a financial adviser. She got the money from him, got my transcript out of Oak Hill Academy. I got a single mother. When she got the money, she paid the financial adviser back through my freshmen year."
TMZ.com broke the news in March
that financial adviser
Jeffrey Hausinger
last August wired $3,000 into a joint back account owned by Gallon and his mother,
Sylvia Wright.
Gallon says
Hausinger went to TMZ with the story after he was forced to resign from the Tampa-based Merrill Lynch office March 26. "The head man in the financial group fired him [Hausinger] so he came came back and told TMZ that I took money," Gallon said. "TMZ never let me tell my side of the story." He added: "It wasn't how it looked. My mother did what she could do to let me go to school. My mother didn't have $3,000 to pay to a school [or else] I wouldn't be able to go to school." Sources said Wright put off paying Gallon's Oak Hill tuition throughout the season and that ultimately her brother paid Gallon's tuition so that he could attend summer school at Oklahoma. Oak Hill president
Dr. Michael Groves
confirmed that the school did receive a payment from the Gallon family about a year ago but that there was "nothing unusual or tawdry" about it.
"We did receive payment from a family member toward his student account," Groves said. "I wouldn't have any information about the origin of the funding." Groves also said that NCAA officials had been at Oak Hill — a national basketball powerhouses in Mouth of Wilson, Va. — within the last two weeks to look at financial records related to the matter. "They were on campus a couple weeks ago, I believe," Groves said. "I have no idea what the NCAA would be looking for." Gallon says the money came to his family from Hausinger and that they used it to pay his Oak Hill tuition. "Oak Hill gave my mother a bill for $3,000," Gallon said. "Until she paid, I couldn't go to school. It wasn't like I was getting the money and paying it to everybody. Three thousand dollars, that's nothing to get my transcript…She paid the man back over the course of my freshman year." Gallon said the story — and subsequent joint investigation by Oklahoma and the NCAA — is the major reason he left school after his freshman season. He is projected as a late-first or early-second round pick in the June 24 NBA Draft. "Yeah, that was one of the reasons," Gallon said of why he left school. "Basically, that was the reason. We still  haven't gotten an answer from the NCAA so [Oklahoma coach]
Jeff Capel
and my mother talked about it. He was like, 'He might as well come out. They're going to wait this long' because they [the NCAA] were supposed to get back to me in a week but it was like two months. So we just came out and that was my decision."
Oklahoma is implicated in the case because
phone records link
former assistant coach Oronde Taliaferro to Hausinger. Taliaferro abruptly resigned April 8.
One national columnist has called for Oklahoma to get the "death penalty," pointing out that the school was already on probation for
"deliberate noncompliance" and "willful violations" at the time the Gallon/Taliaferro situation happened.
Oklahoma Athletic Director
Joe Castiglione
told TMZ the school is committed to following NCAA rules, and "any activity not in compliance is taken seriously and is acted upon swiftly."
As for what will happen at Oklahoma, Gallon said, "I'm really not sure but shouldn't nothing happen. They're probably going to be a little more strict, but whatever they do it's on them."
(Photo courtesy CBS Sports)
Follow Adam Zagoria on Twitter