The New Heights and Team NJ ABC grassroots programs are hosting the Summer In The City (SITC) AAU tournament later this month at St. John's.
According to New Heights' coach and athletic director Kimani Young, SITC will not only be a showcase for players but a welcome addition to the current summer landscape.
"We love traveling, but we also wanted to create an event that brought the experience home," said Young. "We feel like New York is the center of the basketball universe and, as such, we thought there should be a tournament that capitalizes on that energy."
Matt Pauls, the founder of Team NJABC says, "Our goal is to put on a quality event in partnership with our friends at New Heights. That means quality basketball, quality facilities, quality officiating and quality academic workshops."
This year's inaugural tournament will be held on July 28, 29, and 31 at St. John's University. The invitation-only event will showcase some of the nations most talented 14/U, 15/U, 16/U and 17/U teams. College coaches from all over the country will be allowed to scout at the event.
Proceeds from Summer In The City will help support the programs at New Heights Youth, Inc, a NYC-based non-profit organization with a mission "to inspire inner city youth to be leaders, champions and student-athletes and empower them to be successful in high school, college and life." (www.newheightsnyc.org) and Team NJABC, a program that focuses on developing young people into positive contributors to society. (www.teamnjabc.com).
TOBIAS HARRIS UPDATE
I have a story coming out Friday on SNY.tv on Tobias Harris, but wanted to give some highlights of my interviews today with Tobias and his dad, Torrel.
** The current list of potential colleges looks like this: Tennessee, UConn, Syracuse, Notre Dame, Maryland, Oklahoma, Georgia Tech, Rutgers, St.John's, Virginia, Kentucky, Louisville and West Virginia.
**Memphis, Kentucky, Florida and UCLA are also trying to get involved.
**UConn head coach Jim Calhoun scored major points by staying to watch all of Tobias' games at the Peach Jam, even though he has "broken ribs," Torrel said.
**The family is intrigued by John Calipari, who has sent numerous players to the NBA after one year, including Tyreke Evans this year.
**They also have a relationship with Memphis coach Josh Pastner, who coached Channing Frye at Arizona. Frye is Tobias' cousin.
**The family values loyalty and thus the coaches who have attended most of Tobias' summer games will have the edge.
"If the head coach ain't recruiting Tobias, they don't have a chance," Torrel said.
**They plan to cut the list to about five in August and then take official visits from there.
**Tobias heads to Florida later this month for AAU Nationals and the Super Showcase.
"To me it's just an honor to have all these coaches," Tobias said. "I'm just blessed to be in the situation that I'm in. I just need to stay humble and not let it get to my head. We will wait until after the summer to cut down my list and see which college is best for me."
ALL-OHIO WINS PEACH JAM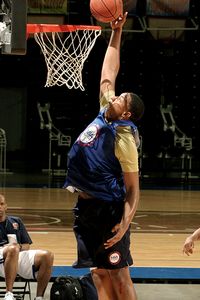 All-Ohio Red, the team that beat Harris and the Albany City Rocks in the semifinals at the Peach Jam, won the championship Wednesday night with a 62-53 come-from-behind victory over Team Final.
Ohio State-bound 6-8, 260-pound center Jared Sullinger (at left courtesy ESPN.com) continued to star on the summer scene, scoring 19 points (15 in the second half) and grabbing 21 rebounds in the win.
Elizabeth (N.J.) St. Patrick star Michael Gilchrist led the way for Team Final with 19 points and 7 rebounds. Point guard Tyreek Duran of Philly Neumann-Goretti added 12 points and 6-9 Rakeem Christmas of Philly NOrth Catholic notched five blocks.
Follow Adam Zagoria on Twitter.