Darryl Bryant,
a West Virginia guard and Brooklyn native who starred at St. Raymond's in The Bronx, has been suspended indefinitely.
Bryant was suspended because of his involvement in a traffic accident outside of Morgantown early Wednesday, after which he left the scene, according to the
Charleston Gazette
. He was charged with four misdemeanors, including leaving the scene of an accident. No one was injured in the accident and Bryant is free on bond. Coach
Bob Huggins
didn't specify Bryant's violation in announcing the suspension Wednesday. Huggins didn't respond to a text message seeking comment. "Darryl is suspended indefinitely from all team-related activities,"  Huggins said in a statement. Bryant was fourth in team scoring as a freshman last season at nearly 10 points per game and led the team in scoring four times. He started 28 games at point guard after
Joe Mazzulla
was lost for the season with a shoulder injury. Huggins suspended Mazzulla indefinitely in April after the junior was charged following an altercation at a Morgantown bar, his second arrest in nine months. (AP contributed)
RECRUITING NEWS & NOTES
I'm headed down to Philly in the morning (early) for Day 2 of the Reebok All-American Camp. Here's a few quick notes:
**Word is
Brandon Knight
(pictured)
is a no-show at the Reebok Camp, which is already devoid of a lot of big names.
**With Camp head man
Chris Rivers
moving to adidas from Reebok, could this be the final year of the camp
Sonny Vaccaro
made famous? Rivers says he's trying to get through this year before making any decision. **AMong the players I plan to check out [and write about] is
Kyle Anderson
, the 6-7 rising sophomore from Paterson (N.J.) Catholic. His father says the following schools are already involved: Pitt, Georgetown, Rutgers, St. John's, Virginia Tech, Wake Forest, La Salle, Texas, Kansas, Baylor, Miami, Kentucky and Indiana. Quite a list, huh? **The list for Plainfield guard
Tyrone Johnson
looks like this according to
Derrick Bobbitt,
his AAU coach: Georgetown, Villanova, Rutgers, St. John's, Virginia Tech, UCLA, Kentucky and Seton Hall. Georgetown appears to be the favorite. **Villanova-bound big man
Markus Kennedy
will end up at either Penn Wood or Neumann-Goretti now that his old school in New Jersey has closed down, according to
Matt Pauls
, his former AAU coach. **Oak Hill guard
Doron Lamb
tells Jody Demling he plans to visit Kansas and Oklahoma later this summer. "Kentucky is one of the schools that is looking at me, but I don't have a main school or a favorite yet," Lamb told Demling. "I want to take some other visits." The New York native already visited Kentucky, and many folks expect he'll end up there.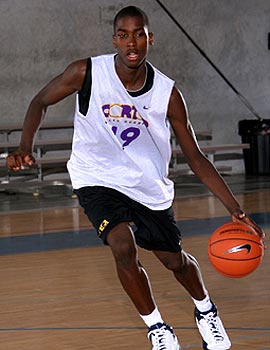 "I learned a lot about the city and the system," he said. "The campus is great. It was good, chillin' with
John Wall
and
DeMarcus Cousins
and all of that.
**
LeBron James
asked
Mike Gilchrist
(pictured left) to lunch two years ago.
Great column by Gary Parrish
. .