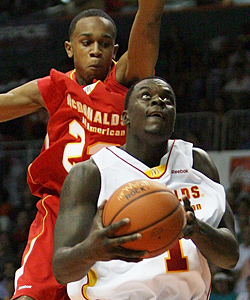 I will preface this post by saying that at this point almost nothing would surprise me about where
Lance Stephenson
ends up.
The latest rumor is that
Isiah Thomas,
the new coach at Florida International, has reached out to Stephenson. "Thomas is going after Lance hard,"
a source told blogger Zach Smart
. "He tried to get [Kentucky-commit]
Eric Bledsoe
as his first step to reviving that program. As of right now, Zeke has the upper hand on Arizona, Memphis and whoever else, for reasons I'm not at liberty to speak about." Now we need to keep a couple things in mind here: **Zach is a hard-working, smart guy, but he also previously cited sources saying Lance was definitely headed to St. John's and we know how that turned out. **I have reached out to a few sources and am trying to confirm whether this rumor is true. On the one hand, it kind of makes sense. Isiah is new on the job and is trying to get involved with some of the top players out there. He got
Latavious Williams
to visit campus and Williams said he enjoyed it
. He's due to announce among Memphis, Georgetown, Kansas State and FIU. Isiah obviously has NBA connections and I'm sure that's appealing to many of these kids. On the other hand, Lance has repeatedly said he wants to play in the NCAA Tournament and have a chance to win it…yet it's hard to imagine FIU making the Big Dance in Thomas' first year, let alone having any kind of shot to go deep. One thing I can confirm: Arizona IS still recruiting Lance despite rumors on blogs to the contrary. This from a source with direct knowledge. Memphis reached out to
Lance Stephenson Sr.
through an intermediary and is believed to be investigating the situation. While I feel that the descriptions by my journalistic colleagues of  Lance as a "
program-killer"
and a "
supermodel with herpes
" are unduly harsh — guys, he's just an 18-year-old kid! — there is definitely a growing feeling that Lance's options have diminished and he and his family may have painted themselves into a corner.
Stay tuned…. ***For more on Lance,
watch this video interview with recruiting expert Tom Konchalski
.