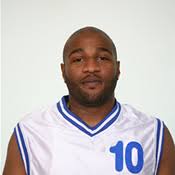 UConn coach
Jim Calhoun
said tonight that the Minneapolis home of former Huskies star
Khalid El-Amin
was attacked Dec. 27 with three Molotov cocktails. Calhoun said no one was hurt but that El Amin's father, Charles, was in the house at the time of the incident.
"I heard the window break. Something crashed to the floor. When I looked up another one came through and it said 'Boom!'" Charles El-Amin
told WCCO of Minnesota
. "I was like, 'Dad come on let's go, let's go,'" said
Kamillah El-Amin Shabazz.
El-Amin's basketball memorabilia was damaged by the fire, and someone broke into the house the next day and stole three TVs. "Everything that was over here in this corner is gone. We had all types of things over here, and this is what's left," said Kamillah. "There's a lot of sentimental things that are gone now of my brothers trophies and some of his pictures and things like that." Calhoun said he spoke with El-Amin, now playing professionally in Ukraine, Thursday morning. His family started up a Muslim sect in the area, but it's unclear if the incident was a hate crime. El-Amin helped UConn win the NCAA title in 1999. In 2000, he was selected in the 2nd round of the NBA Draft by the Chicago Bulls.
CALHOUN COMPARES KHALID TO KEMBA WALKER
The El-Amin discussion came up because Calhoun compared
Kemba Walker
to El-Amin after the former dropped 21 points, 5 rebounds and 4 assists in UConn's 67-55 win over St. John's at Madison Square Garden. "His competitiveness is beyond remarkable," Calhoun said "Kemba was sensational." "Offensively, I kind of exploded tonight," added Walker, the former Manhattan Rice star and McDonald's All-American. "I just wanted to win. I just wanted to have fun." Walker said he wanted to bring some energy to the team when he and teammate
Jeff Adrien
keyed a 16-5 run midway through the second half, when the Huskies turned a 39-36 lead into a 55-41 advantage. Walker and Adrien (17 points, 11 rebounds) scored all the points during the spurt.. "At one point, I thought that the score shouldn't have been that close," Walker said. "At halftime we talked it out and we came out and exploded." It was a homecoming for Walker, who played here in the Nike Super Six with Rice. Among those on hand were former Rice assistant coach and New Heights athletic director
Kimani Young
, now an assistant with St. John's, and Walker's former Rice teammate
Durand Scott
, who committed to Miami on SNY.
Dwayne Mitchell
, a Gauchos coach, was also in the building. "I'm home, this is my homecoming for me and
A.J. [Price]
," Walker said. "A.J. didn't play as well but we needed some big shots….We're both point guards, we're trying to get our teammates involved. A.J. wasn't having a good night so I was trying to pick him up."