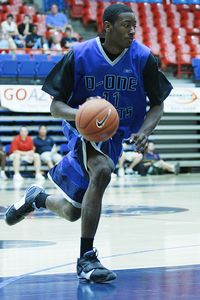 I interviewed
John Wall
by phone today from the Nike Global Challenge in Portland, Ore., and he says he's still open about colleges and is in no hurry to make a decision.
"I still have Baylor, Oklahoma State, North Carolina State, Memphis, Kentucky, Kansas and Oregon," said the 6-foot-2, 188-pound Wall, the No. 1 recruit in the nation according to Rivals. He mentioned taking a few visits, though no dates have yet been set. Southern California and Texas have also been on Wall's list, but many observers assume he will end up at Baylor now that his summer ball coach,
Dwon Clifton
, has taken a job as the Director of Player Development under Baylor head coach
Scott Drew
. Wall told Rivals that Clifton's hiring "gives Baylor an edge because Coach Clifton has helped me a lot," but that he will not automatically attend Baylor. As for when he might make a decision, he said he plans to attend the
Boost Mobile Elite 24 event
at Harlem's Rucker Park Aug. 22 and then decide sometime before his high school season starts at Word of God Academy in Raleigh, N.C. He said he plans to make several official visits first, including one possibly to Texas. "I might not decide until the high school season starts," he said. Wall averaged 18 points, 10 assists and 7 rebounds last season while leading Word of God to back-to-back 1-A state titles. Word of God finished 30-3 and ranked No. 19 in the USA Today final poll. As for his experience at the Nike Global Challenge, Wall said he is enjoying it. He had 18 points, 4 steals and 2 blocks
in a 74-73 loss to Serbia
. "I'm having a good day," he said. "It's good to play against other great players from around the country, and I'm just trying to help my team. And it's good to play for the USA Camp."
Other players of note in Portland include
Abdul Gaddy
, the subject of a recent self-reported recruiting violation at Memphis;
Xavier Henry
, who is sitting out the event due to injury; and UConn commit
Alex Oriakhi
.