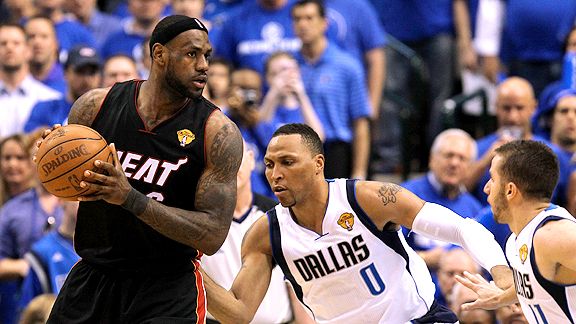 LeBron James
may play for the Heat, but he's also facing the heat on all sides after another dismal fourth-quarter performance. Yet his high school coach is sticking up for him.
"If the ball goes in the basket, he would've had a tremendous game last night,"
Keith Dambrot
, James' coach at St. Vincent-St. Mary High School and now the head coach at Akron, told ESPN's Mike & Mike Friday morning. "By most people's standards, 17 points, 10 rebounds, 10 assists, that's a pretty good game." Yes, the King posted a triple-double in Miami's 112-103 loss to the Dallas Mavericks in Thursday's Game 5 loss in Dallas, but he managed just 2 points in the fourth quarter. In the last four games, James has not scored more than 2 points in the fourth quarter. He has  11 total points in five fourth quarters in this series. That's six less than his teammate
Udonis Haslem.
As a point of comparison, James has had at least 11 total points five times in the fourth quarter this postseason. "The pressure is getting to LeBron James," ESPN's
Jon Barry
said on air. "This is something we haven't seen….I think his confidence is shaken." James is being heavily criticized for failing to attack the basket and settling for 3-point shots late in the game. His post-up game leaves something to be desired as well. "He has to get better moving himself so he can be more active in the offense in the fourth quarter," ESPN's
Magic Johnson
said. Still, Dambrot, who won two consecutive Ohio state championships with LeBron, says pressure isn't a factor. "I don't really buy the pressure part," he told Mike & Mike. "I do believe that he's a guy that goes on rolls and sometimes he doesn't make shots. But I think he's a good player even when he doesn't make shots. "The other thing that you have to look at, and I'm not making excuses for him, is he's chasing
Jason Terry
around. He's not getting a lot of breaks. It's been a long season. You can't run around after little guys and then in the fourth quarter expect to have tremendous legs. And so if he doesn't feel like he has great legs, he's going to pass the ball." Asked to compare James to
Michael Jordan
and
Kobe Bryant
"killer-instinct-wise," Dambrot said: "I think that remains to be seen. I think a lot of people are judging him on how many points he has. I think most importantly is how many wins is he going to have. "If he wins this series and then goes on to win a lot of other series, I think all those things will be dispelled. There's no question he has that kind of ability. I think he'll surprise people when push comes to shove." Still, Dambrot did say he texted James before Game 5 and told him to relax. "I just told him to let loose and let your talents dictate and have fun," he said. "I think sometimes he knows that he has to win championships to go down in history as one of the greatest of all times. That's what he wants. But I think also you have to have fun and relax and not let the pressure get to you, and that's what I try to talk to him about… "I just try to be there for him when he has his struggles."