Ben Simmons,
the No. 1 player in the country on the ESPN 100, signed his Letter of Intent with LSU on Wednesday but he may only be on campus for a year.
The 6-foot-10 Australian is projected as the No. 2 pick in the 2016 NBA Draft by DraftExpress.com.
Jaylen Brown
, who has yet to pick a college, is listed as No. 1. "It really depends," he told ESPNU Thursday night. "It just depends on how the season goes. If I'm ready to go to the next level then definitely I'll look at my options. But I'm focusing on this season right now. We have my last high school season [at Montverde Academy] so I really just want to do as well as I can for the team and my coaches here." Simmons,
who committed to LSU almost two years ago
, dominated at the Peach Jam in July and called himself a "6-10 point forward who can pass the ball, bring it up, run plays and get to the rim." Meantime, he's working on recruiting
JaQuan Lyle
and
Antonio Blakeney
to LSU. All three took an official there last weekend. "They're great players, they'd be a good fit," he said. "But they're going to have their own decisions and personal preferences for schools, but I think it would be a good look for LSU." Lyle
told SNY.tv this week that Simmons was working hard to land him and Blakeney
. LSU assistant
David Patrick
is Simmons' Godfather and is also recruiting Lyle and Blakeney. "Without him I would still be looking at schools," Simmons told ESPNU. "…Dave Patrick I've known him my whole life. He's family so that played a big part." Simmons was one of four Montverde players to sign NLIs this week, including
Noah Dickerson
(Florida),
Jean Marc Christ Koumadje
(Florida State) and
Marquez Letcher-Ellis
(Rice).
"It was just a great excitement and a relief for me, a weight off my chest finally being a part of that school," Simmons said.
BILLY KENNEDY TALKS LOADED CLASS AT TEXAS A&M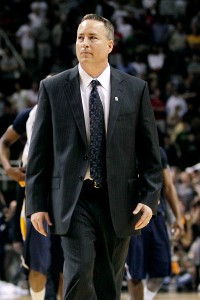 Perhaps lost in the all the hype about Kentucky, Arizona and other schools is the fact that Texas A&M has a loaded four-man class. The quartet of
 Tyler Davis, Elijah Thomas, D.J. Hogg
 and
Admon Gilder
is currently ranked No. 3 behind Kentucky and Arizona by ESPN.com. A&M had been No. 2 before Thursday. Davis is ranked No. 20 by ESPN, Thomas is 29, Hogg is 35 and Gilder is 64. "We recruited these guys for the last three years, so I think my assistant coaches did a tremendous job and our players did a good job of selling our University," Kennedy said on ESPNU, giving credit to assistants
Rick Stansbury, Kyle Keller and Amir Abdur-Rahim.
Perhaps most important, all four players are from Texas. "There's a lot of good talent, good basketball here in the state of Texas," he said. "To be good wherever you're at, you've got to own your own state and we've struggled to do that recently but we've made some ground up the last couple of years and fortunately we have a great class coming in with this group." Asked about the 6-10 Davis, Kennedy called him "An impact big guy who knows he's a big guy. Tyler doesn't float around the perimeter. He runs to the rim, gets wide and has been well-coached and prepared from Plano West and the Texas Titans….Just a nastiness around the basket who knows his role and can score and rebound. He's developed a nice touch from 15 feet to where he can shoot the ball a little bit, too." A&M will have a nice 1-2 punch down low with Davis and Thomas. "Just to have two quality big guys who have versatility," Kennedy said. "I think both can pass the ball, they both handle it. They have a great feel for the game. Defensively, they're active with their feet, got very good hands. So I see them playing well together early on and having a big impact in their careers."