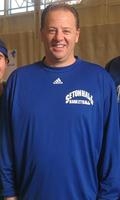 In a delicious twist of fate, former Seton Hall coach
Bobby Gonzalez
will coach against several incoming Seton Hall recruits in tonight's Frankie Williams Charity Classic in Greenburgh.
Gonzalez, who was fired by Seton Hall in 2010, is listed as a coach of "Team Inspire" which takes on "Team Desire" in the 8 o'clock game at the Theodore D. Young Community Center. The roster for "Team Desire" features four incoming Seton Hall players in McDonald's All-American
Isaiah Whitehead, Khadeen Carrington, Desi Rodriguez and Angel Delgado.
"I'm going to speak to both teams before the game and I'm bringing
Luis Flores
with me to have him coach," Gonzalez told SNY.tv. "Luis wants to become a college coach so my job now is to groom and help guys, especially my former players. I had my time." Whitehead, Carrington, Rodriguez and Delgado comprise four-sixths of a Seton Hall recruiting class that also includes Our Savior New American forward
Michael Nzei
and Newark East Side forward
Ismael Sanogo.
Whitehead, Carrington, Rodriguez and Delgado are also scheduled to play together on Saturday in the Mary Kline Classic at West Orange High School. As for Thursday's game, Gonzalez said: "I wish all those kids the best. I'm always all for the kids and players making it. That's always been the reason I became a coach."
Follow Adam Zagoria on Twitter
And like ZAGS on Facebook