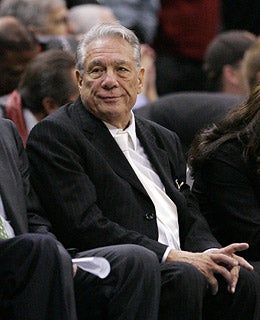 NEW YORK
— If the NBA Draft were held today, 
Shabazz Napier
, star of the newly-minted NCAA champion UConn Huskies, would go No. 28 to the Los Angeles Clippers according to Draft Express.com.
If Clippers owner
Donald Sterling
had not been banned from the NBA by Commissioner Adam Silver for his racist comments
, his role with the team might have been an issue for a young player like Napier — or whoever the Clippers end up selecting. DraftExpress has also recently listed Napier's UConn teammate
DeAndre Daniels
and Wichita State's
Cleanthony Early
in the No. 28 slot. "I don't want to speak for anybody, but I think there was going to be concern moving forward for anyone, especially with that organization if there wasn't action taken but it seems like that's been taken care of," Virginia Commonwealth coach
Shaka Smart
told SNY.tv of the Clippers situation vis-a-vis the Draft.
Andrew Wiggins
, the projected No. 1 pick in the NBA Draft who is in no danger of getting selected by the Clippers, did speak out on the issue on Twitter. "Proud of the #NBA and their handling of the offensive comments made by Sterling," Wiggins Tweeted. "I'm honored to be joining this league and family." While several college coaches declined comment on the matter because the issue of race in general, and the Sterling situation in particular, have been such hot-button topics, Smart and Georgetown coach
John Thompson III
— both of whom are African-American — were willing to speak to SNY.tv on the subject. Both expressed relief that Sterling has been banned from the league, even though he still owns the team. Sterling's right hand man, Clippers' President
Andy Roeser,
has also been put on an indefinite leave of absence, paving the way for the NBA to appoint a new chief executive for the franchise.
"I think just because of the swift action the NBA has taken I don't think it will be as big of an issue or [as] much of an issue for kids who get drafted by that team," said Smart, who led VCU to the 2011 Final Four. Thompson also said he would have no problem having a player get drafted by the Clippers now that the Sterling situation has been dealt with — at least preliminarily. "I think that as everyone has said that the Commissioner's actions were swift and put the league and the organization in a position where there's positive light on a go-forward basis," he told SNY.tv.
Neither VCU nor Georgetown is likely to have a player taken at No. 28, but Thompson III joked, "If [
Markel] Starks
goes 58 to the Clippers we'll cross that bridge when we come to it." (The Spurs actually own the Clippers second-round selection that would go at No. 58.)
Keith Glass,
a longtime NBA agent and the onetime agent for former Knicks coach
Mike Woodson
, said that in addition to dealing with the racist comments Sterling made, any incoming draft pick would have had to deal with the media circus surrounding the team. "I think that not due to the subject matter but due to the pressure and the publicity that this thing has generated, it would be very difficult for any player  — whatever race he was — to go to the Clippers," Glass told SNY.tv. "But I want to stress, not from the point of the view of the politics of it, but from the point of view of how much publicity has been generated. It would be very difficult. And that person, unfortunately, would be placed under a microscope probably inappropriately and I think certainly not having [Sterling] there would certainly relieve pressure on any player, especially a young player."
Sonny Vaccaro,
the former sneaker executive who said he had known the Clippers' Roeser for 30 years, now thinks young players like UConn's Napier, who was not immediately available for comment, should want to play for the Clippers because they have "cleaned out" the Sterling regime and the franchise is an "ideal" place to play. The team is up 1-0 on the Oklahoma City Thunder in their Western Conference semifinals series, has a well-respected coach in
Doc Rivers
and a core of young talented players led by
Chris Paul, Blake Griffin
and
DeAndre Jordan.
"I'd say my prayers that I dropped a couple of spots to go there [to the Clippers]," Vaccaro told SNY.tv. "It would be a great, great situation for Shabazz to go there, absolutely, because first of all, you're playing behind Chris Paul. Second of all, you're in Los Angeles. And they're going to win. They are going to win.
"Doc Rivers is a preeminent coach by any degree of imagination. He would be in my mind a perfect visual for a young player to want to play for." Vaccaro, who lives in California, called the Clippers "a more idyllic situation to go to now" than the the Knicks or the Nets because "first of all, you're in California and second, the Clippers are a preeminent team. They can win the NBA championship this year." In the past, the Clippers often didn't resign their draft picks because Sterling didn't want to pay them after their first contract. Players also left because the team was so bad. "If you were drafted by them, you might have opted out because you didn't want to play there anymore," Vaccaro said. Now, Vaccaro believes, players should want to get drafted by the Clippers — and remain there when their initial contract expires. "They are now at the top of the food chain," he said. "Yes, I don't think people will want to leave the Clippers now, other than for more money from somebody else. Not because the team will be bad. The team should never ever be bad again. Ever. Free agents will go there. Why would you not go to L.A.?"
Follow Adam Zagoria on Twitter
And like ZAGS on Facebook