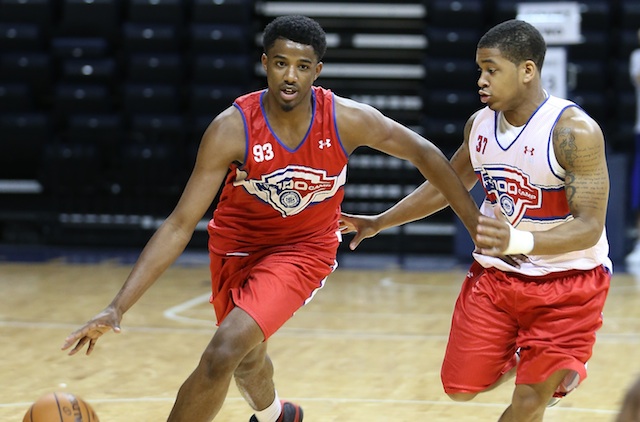 JaQuan Lyle
is planning to visit Providence in early March, his mother told SNY.tv following a home visit in which she hosted head coach
Ed Cooley
and assistant
Bob Simon
at her home in Evansville, Ind.
"We plan on making a visit to Providence on March 3rd or 4th,"
Lumecha Garrett
told SNY.tv. "I work on the weekends so we're trying to make some visits during the week if we can." She said Cooley and Simon were the first coaches to visit her in Evansville since the 6-foot-5 Lyle decommitted from Louisville and that she was impressed by that. "Yes, it does [make] a big impression," Garrett said. Cooley and Simon were also planning to watch Lyle play Wednesday night at Huntington (W.V.) Prep. "I like the program, I like the way he talks about the program, what he can do on and off the court with my son," she said of Cooley. Providence already has three commits for 2014 in small forward
Jalen Lindsey,
Lyle's Huntington Prep teammate, power forward
Ben Bentil
and center
Pascal Chukwu.
Lyle earlier told SNY.tv he plans on visiting Kansas and Oklahoma State
, but no dates are set. Lyle and his mother visited Oregon this past weekend and she, like him, said she enjoyed it. "I liked the program, I liked the campus, the coaches were real nice," Garrett said. His mother said they were also considering UConn, Memphis and West Virginia. Lyle said he's planning on cutting his list soon. Ironically, last June he cut his list to Indiana, Louisville, Tennessee and Florida — and now none of those teams are in the mix. "I want to make sure he makes the right decision for himself because he's the one that's gotta be at that school for however many years he's going to be there," she said.
Photo: Kelly Kline/Under Armor