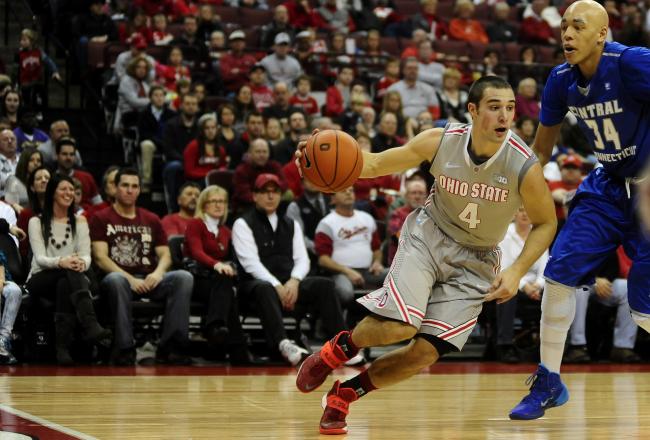 By DAN KELLY
Special to ZAGSBLOG
NEW YORK
— If rosy red cheeks were coveted NBA skills, then
Aaron Craft
 would be 
Andrew Wiggins
and "Play like Crap for Craft" would be a bonafide NBA strategy. But those cheeks are helpless charms and Craft's NBA potential is as questionable as his jump shot. The four-year starter, Academic All-American, and veteran of March  went for 10 points, 3 rebounds and 3 assists as No. 3 Ohio State rallied from an eight-point deficit with 58 seconds to play to beat Notre Dame 64-61 on Saturday night in the BlackRock Gotham Classic at Madison Square Garden. Craft is projected to go in the second round of the
2014 DraftExpress mock draft
. The argument on Craft's behalf is fairly simple: He's the best perimeter defender in college basketball. At 6-foot-2 and a solid 195 pounds, Craft has fine size for an NBA point guard. And while he isn't an explosive leaper he has enough speed and lateral quickness to be considered an average athlete. Craft's most obvious assets are his sticky fingers (he has the stickiest fingers in Ohio State basketball history with 269 thefts and counting). But his most valuable skill is his
refusal to get screened
. By some fearless combination of speed, strength, instinct and desire Craft renders the pick-and-roll completely impotent; which allows the rest of the Ohio State defense to stay at home and avoid vulnerable rotations.
As fate would have it the ability to defend the point guard position at an elite level has never been more important in the NBA than it is now. There are a ton of really good point guards and you see a pick-and -roll almost every time down the court.
Can Craft defend with that same disruptiveness against
Chris Paul, Kyrie Irving, Damian Lillard and Russell Westbrook
? Will he get the chance? Does he deserve that chance? One veteran NBA scout isn't sure. Regarding Craft he said, "Solid, tough, leader, defender who is a really good college player. Cannot shoot and is not an athlete. At best a third point guard on an NBA roster." The concerns about Craft's shooting ability are valid. He's a career 33 percent shooter from deep and his percentages have actually decreased every year. The mechanics on his shot are choppy and slow. All signs point towards a long life of bricked jumpers and sagging defenses. But his playmaking ability is underrated. He's evolved over the years into savvy pick-and-roll decision-maker and will finish his career with more assists than every other player in Ohio State history. He understands how to push and pull the opposing defense into fragile shapes and almost always makes the right pass. He's shown a particular affinity for creating corner three and lob dunk opportunities for his teammates (arguably the two most coveted shots in the NBA right now).
He lacks creativity and explosiveness off the dribble but he sneaks to the rim when defenders overplay the pass and he finishes well when he gets there. 
On a recent ESPN telecast Bob Knight said, "There's not a player in the country who plays the game any smarter than Craft does." High praise from a revered basketball mind. 
Point guards who can't shoot and aren't explosive with the ball are scarce in professional basketball and most scouts would prefer a little more size. But the game is changing and it might be time to take a chance on the pick and roll assassin with the rosy cheeks.
__________________________________________________________________________________________
ROSS A SECOND-ROUNDER
LaQuinton Ross
 went for 16 points and 11 rebounds in the win. A long-armed, 6-7 junior who played his high school basketball at Life Center Academy in New Jersey, Ross is currently projected as the 13th selection in the second round of the DraftExpress 2014 Mock Draft. Ross has begun to emerge this year as a primary scorer for the Buckeyes. At 6-7 with a 7-1 wingspan, Ross has nice size for an NBA shooting guard. His NBA skill is a smooth and consistent 3-point touch with plenty of range. "Inconsistent with his effort from game-to-game, but he is good spot-up shooter," the veteran NBA scout told SNY.tv. "Needs a lot of work. Not a defender or rebounder. Needs to work on his mid-range game. Right now he's a catch-and-shoot guy who can stretch the defense. Not ready." Defenses are playing him to shoot the three and he's been getting to the rim with well sold shot fakes. He's not a big leaper and his finishes around the rim are usually left-handed scoops and right-handed leaners. When he has a smaller defender on him he'll demand the ball in the post and go to work with his back to the basket. He's comfortable with contact and will shoot through defenders down low. Ross has always had the talent and the attention of NBA scouts. He was ranked the No. 1 player in his high school class for a period of time. His biggest improvement this year has been his consistency. He's bringing high energy and aggressiveness every night this season.
Ross lacks NBA level athleticism and has yet to prove that he can be an average defender but
the direction of the NBA
favors long range bombers with size and Ross certainly meets those requirements.
Follow Dan on Twitter