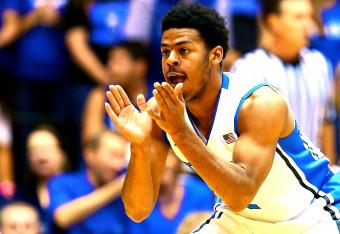 NEW YORK — Quinn Cook
is enjoying the finest season of his college career.
The Duke junior is averaging career-highs of 14.6 points, 6.5 assists and 1.5 steals for the No. 8 Blue Devils. Yet assuming Cook sticks around Durham for his senior season, he will be joined by another elite point guard in
Tyus Jones
, the top-rated floor general in the Class of 2014. And Jones isn't coming in to sit on the bench, either. So, how will it work? Will Jones and Cook share time at the point? Will Cook surrender minutes to the heralded Jones? Will they spend time together in the backcourt? "He's a hell of a player, man, all the freshman coming in [are] but we know we got business to handle this year," Cook said after going for 14 points, 8 steals and 5 assists in the Blue Devils' 80-63 win over UCLA at Madison Square Garden. Asked if he could envision sharing the backcourt with Jones, Cook said: "Definitely, definitely, definitely, we definitely will but whatever coach wants us to do is going to happen." Jones, of course, will be joined in the No. 1 recruiting class in the nation by
Jahlil Okafor, Justise Winslow and Grayson Allen.
Projected as potentially the No. 1 pick in the NBA Draft, Parker may be a longshot to return to campus, although he
did previously tell SNY.tv he could envision playing with the 6-10 Okafo
r, his fellow Chicagoan and former Mac Irvin Fire teammate. As for next year and how it might work with Jones, Cook's not worried about that right now. "We haven't talked about anything for next year," Cook said. "I think that's disrespectful for the seniors this year, so we don't talk about next year."
For now, Cook is focused on this season, 
and said he hopes the Blue Devils are assigned to the East Regional
, which culminates at Madison Square Garden. "Definitely, they call this Cameron North, right?" he said. "So that would be a little homecourt advantage." Photo: Getty Images