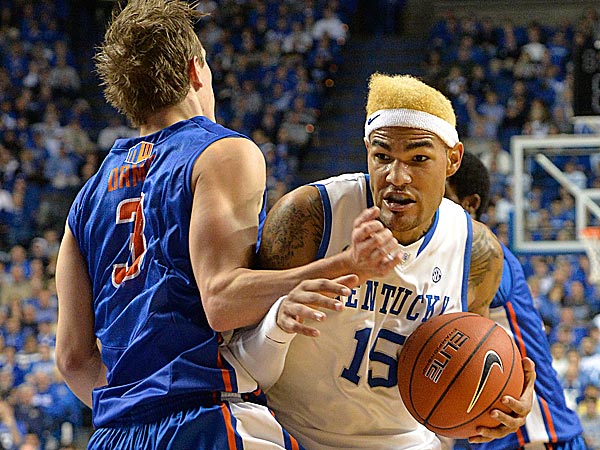 "They're coming."
That was the message Boise State coach 
Leon Rice
had after playing — and losing to — No. 11 Kentucky, 70-55, Tuesday night. "They're coming. They are going to continue to get better," Rice said. That assessment makes perfect sense considering it's early December and
John Calipari's
team features eight freshmen and two sophomores who are still learning to play together. There are still three months to go before March Madness and it's impossible to tell what this team's ceiling is at this point. "We're not close," Calipari said. Still, coming off Friday night's loss to Baylor and heading into Saturday's intriguing tilt at No. 18 North Carolina, Kentucky flashed some of its vast potential.
Willie Cauley-Stein,
who has NBA personnel increasingly fascinated with his upside
, flashed his new blond locks and blocked nine shots to go with six points and seven rebounds. "I'll say this, looking like that, you better play, Willie," Calipari said he told 7-foot sophomore, before invoking
Dennis Rodman.
"There was a guy that used to do that to his hair. He also wore wedding dresses. But he killed you. He would shut you out and get every rebound, play 40 minutes. Then I saw him on the treadmill after the game in our building. Who is on the treadmill in there? Coaching the Nets. It was Rodman. He played 40 minutes, had like 18 rebounds, and he went on the treadmill. You can paint your hair all you want; just be like him." Cauley-Stein, who could easily be a Top 10 pick in the 2014 Draft, presents a defensive presence who alters games and who opposing teams simply can't adequately prepare for.
"It was funny," Rice said. "I was talking to a coach who played them and he said you need to simulate playing against a 7'1" guy who can move and block shots and I'm not sure I knew how to do that. You just can't simulate their size in practice. They can make mistakes and then make up for them and that's what they did a great job of tonight. With (Willie) Cauley-Stein, you get to the rim and he blocks nine of them, and he alters probably 10 more of them. We have been able to get to the rim a little bit in the preseason, but not on him. That's the difference for them. They were dialed in, they were focused defensively, and when they did make a mistake, they made up for them with their hustle plays." Meantime
, James Young,
the freshman sharpshooter from Michigan whose stock has risen perhaps more than any Kentucky player, scored 17 of his 21 points in the first half. "I was just really feeling it tonight," he said. "I got some extra shots up before practice and as I got here I got a little bit better. I just got a lot of shots up before the game."
Julius Randle
had 17 points and 11 rebounds for the Wildcats, while guards
Aaron and Andrew Harrison
each scored 13 points and combined for seven rebounds. Next up is a showdown with a Jekyll and Hyde Carolina team that has beaten defending NCAA champion Louisville and then-No. 1 Michigan State, while also losing to Belmont and at UAB.
It's still early December. There's still plenty of time. And there's no telling what this team's ceiling is. They're coming. Photo: Timothy D. Easley/AP)