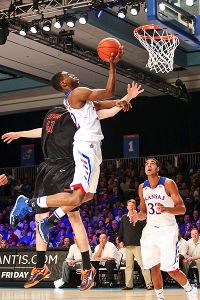 Are the Toronto Raptors tanking to try to bring 
Andrew Wiggins
home to Canada?
By trading
Rudy Gay
to the Sacramento Kings, it certainly looks like they are headed in that direction. From
Toronto Star columnist Cathal Kelly
:
"In off-loading flighty wing and human anvil Rudy Gay to the Sacramento Kings, Raptors GM Masai Ujiri has finally given the order for this season — 'Dive.'
"From the start, they said they'd give themselves 45 days to see what they had. Sunday was Day 40 of the season. They didn't need another week to remind themselves they aren't any good." The Raptors are currently 7-12 and actually have a better record than both the Knicks (5-14) and Nets (6-14) — two teams without a first-round pick in 2014. Who knows who will end up getting the rights to the No. 1 pick in 2014, but this much is a certainty. Wiggins, who went for a career-high 22 points in Saturday's buzzer-beating loss at Colorado, has said he could see himself returning to Toronto and playing for the Raptors — and his return would obviously do wonders to rejuvenate the franchise. Asked in July which NBA team he thinks he will end up playing for, Wiggins
said in this video interview
: "I would like to say the Raptors," he said, smiling. "I want to play for them."
As Michael Grange pointed out in this excellent column
, the Raptors have not taken advantage of the bevy of upcoming homegrown Canadian talent, having missed out on
Kelly Olynyk,
now with the Celtics. Hundreds of young Canadian ballplayers now dream of becoming the next Andrew Wiggins,
as I wrote in this column
. Imagine the possibilities not only for the Raptors — but for the continued growth of Canadian hoops — if Wiggins were to somehow end up back in Toronto.
*** Here's a brief breakdown of the four top freshmen and what they've been doing and what's ahead. In future weeks, we will feature other top freshmen, including Kansas' 
Joel Embiid
 and 
Wayne Selden
, Kentucky's 
James Young
 and 
Andrew and Aaron Harrison
, Indiana's
 Noah Vonleh
, Syracuse's 
Tyler Ennis
, LSU's 
Jordan Mickey
 and others:
**ANDREW WIGGINS, 6-8 SF, Kansas
Stats:
 15.3 ppg, 5.5 rpg, 1.4 apg
Next 3 games:
 Tuesday at Florida, Saturday vs. New Mexico, Dec. 21 vs. Georgetown.
Mock Drafts:
 Draft Express No. 1, The Big Lead No. 1.
What to read:
NBA still high on Wiggins despite lackluster play
.
**JULIUS RANDLE, 6-9 PF, Kentucky
Stats:
 17.9 ppg, 12.1 rpg, 2.3 apg
Next 3 games:
 Tuesday vs. Boise State, Saturday at North Carolina, Dec. 21 vs Belmont.
Mock Drafts:
 Draft Express No. 2, The Big Lead No. 2.
What to read:
Magic, Jalen Say Randle Should be No. 1 Pick
.
**JABARI PARKER, 6-8 SF, Duke
Stats:
 22.1 ppg, 7.8 rpg, 1.8 apg
Next 3 games:
 Dec. 16 vs. Gardner-Webb, Dec. 19 vs. UCLA (Madison Square Garden), Dec. 28 vs. Eastern Michigan.
Mock Drafts:
 Draft Express No. 3, The Big Lead No. 3.
What to read:
NBA Assistant: Jabari Parker Would Help Multiple Playoff Teams This Year
.
Duke's Parker Can Envision Playing with Okafor Next Year
**AARON GORDON, 6-9 PF, Arizona
Stats:
 12.0 ppg, 9.0 rpg, 1.4 apg
Next 3 games:
 Wednesday vs. New Mexico State, Saturday at Michigan, Dec. 19 vs. Southern.
Mock Drafts:
 Draft Express No. 6, The Big Lead No. 7.
What to read:
Guard Play has Arizona Poised for Big March
.
Coach K: ESPN is Overhyping the Diaper Dandies
**For more stories on Andrew Wiggins, click here.