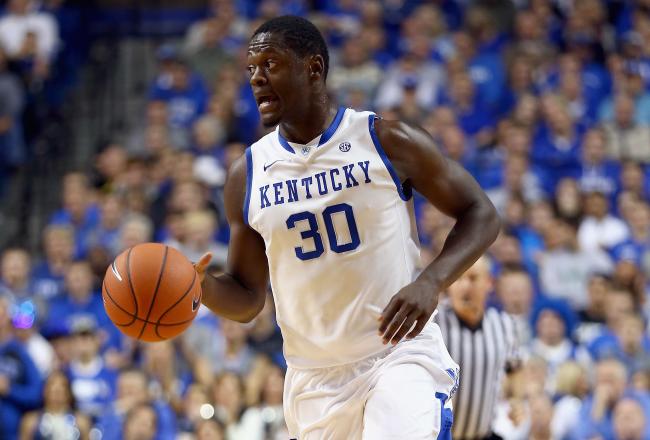 A new
Mock Draft
from our friend Jason McIntyre at The Big Lead has five Kentucky players going in the first round and the Knicks and the Nets (predictably) watching from the sidelines.
None of the Kentucky first-rounders is named
Aaron Harrison.
J-Mac has the Kentucky players thusly: No. 2 –
Julius Randle,
Fr., PF, Milwaukee Bucks No. 12 –
James Young
, Fr. SG, Denver Nuggets No. 15 –
Willie Cauley-Stein
, So., C, Cleveland Cavaliers No. 22 –
Andrew Harrison
, Fr., PG, Houston Rockets No. 28 –
Dakari Johnson,
Fr., C, Phoenix Suns One interesting storyline to contemplate is what happens if Andrew Harrison is projected as a first-rounder and Aaron Harrison is projected as a second-rounder (as is likely)? Do they both come out, with Aaron taking his chances on a non-guaranteed future? Or do they both stay in an effort to improve their stock, thereby helping Kentucky's chances greatly in 2014-15? *** Meantime, this Mock Draft should give Knicks and Nets fans additional pause about what lies ahead next June. Right now, the two New York teams are a combined a 7-22. The Knicks have lost seven straight. While there's a long ways to go in this NBA season, imagine if one or both teams lands in the loaded 2014 NBA Draft lottery without a pick? Right now, The Big Lead has the Knicks' pick going to the Orlando Magic at No. 17 in the form of Arizona State point guard
Jahii Carson.
You don't think the Knicks could use a young, energetic point guard the way
Raymond Felton
is banged up? Meantime, J-Mac is optimistic that the Nets will turn it around and get into the playoffs. The Celtics get that pick and choose Colorado guard
Spencer Dinwiddie
at No. 24? This assumes a big turnaround by the Nets. But the bottom line is, Knicks and Nets fans won't have much to cheer about in the 2014 Draft.