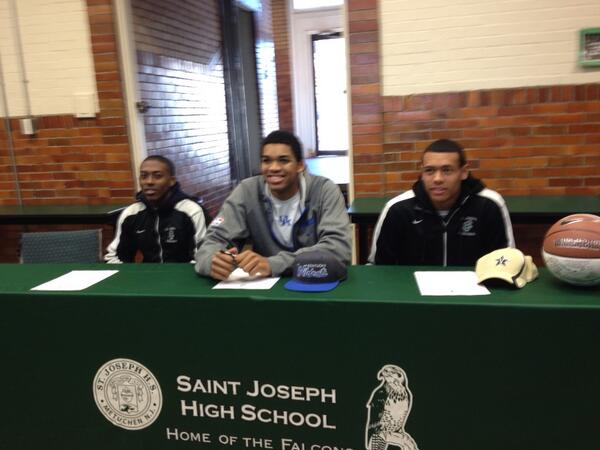 Wade Baldwin
and
Karl Towns Jr.
have known each other since they were 10 years old.
They are teammates at St. Joe's-Metuchen in New Jersey, and next year will be rivals in the SEC. Their mutual promise to one another: to dunk on the other guy in college. "Yeah, I told him, 'Big man, you better clear out because I'm getting ready to throw it down,'" Baldwin told SNY.tv Wednesday. "Man, you know I'm going to punch your stuff out of bounds," the 7-foot, 250-pound Towns Jr. tells Baldwin in response. The two old friends — as well as Canisius-bound point guard
Raven Owen Jr.
— signed National Letters of Intent at St. Joe's on Wednesday, the first day of the NCAA early signing period. Towns Jr. is part of a four-man 2014 class at Kentucky that includes point guard
Tyler Ulis
, shooting guard
Devin Booker
and power forward
Trey Lyles.
Towns Jr. said that all of them except Booker had signed as of Wednesday. "We're like best friends, we talk to each other almost every day," said Towns Jr., who reclassified to 2014 from 2015 when he committed to UK last year. "I got all messages from every single one of them saying congrats and I congratulated every single one of them. And I just can't wait for all of them to officially sign and I can't wait to see what other people could join our squad and really join the family." Towns Jr. watched No. 1 Kentucky lose to No. 2 Michigan State Tuesday night in the Champions Classic. He said it reminded him of St. Joe's loss to current Syracuse freshman
Tyler Roberson
Roselle Catholic in the New Jersey Tournament of Champions last spring.
"Kentucky, even with all the talent in the world, lost to a team with experience and I look at that win and it brought back a lot of things about St. Joe's last year," Towns Jr. said. "Roselle Catholic beat us with the experience that they had, with being with each other for so long." This year, he said, he expects St. Joe's to have the "double dagger" of both "talent and experience" as they seek to win the TOC. Towns Jr. said he imagined himself playing in the Michigan State game, banging with big man
Adreian Payne.
"Of course watching the game I felt that I could've gone in the game and contributed," he said. "But I have a whole other year before I can grow and fine tune my skills before I actually have to put the jersey on." As for Kentucky, Towns Jr. was impressed with Kentucky freshman 
Julius Randle
, who went off for 27 points and 13 rebounds in the loss. Towns Jr. may be the opposite of Randle in some ways in that he is a big man who prefers to play on the perimeter, although he says he's also comfortable down low. "Especially with this summer [playing with the Dominican National Team],  people can see how comfortable I am playing anywhere on the court," Towns Jr. said.  "Even inside against pros such as
Luis Scola, Tristan Thompson, Renaldo Balkman
, so I think people can see that I'm comfortable anywhere on the court, even if you need me to bring the ball up the court or play on the post. Comfortability is never an issue. I just have to go out there and I have to execute."
As for the 6-3 Baldwin, he expects to play a pivotal role at Vanderbilt. "They told me my role will be a starting guard, whether it's point guard or shooting guard," Baldwin said. "Right now they're leaning more towards the point guard. "But I just want to bring everything I can, whether it's energy, leadership, vocalizing, just anyway I can contribute to the team and winning SEC championships. And hopefully making the Dance and going from there." And he wants one more thing: to dunk on his old high school teammate once he suits up at Vanderbilt.
BIG DAY FOR SPORTS U
Towns Jr. and Baldwin are part of the Sports U AAU program directed by
Ed Bright.
That program will also send
Jared Nickens t
o Maryland,
Quadri Moore
to Cincinnati,
Kenny Grant
to Rider and
Tom Lacey
to the Naval Academy. The program currently features several college frosh, including
Josh Brown (Temple), DeAndre Bembry (St. Joe's), Hallice Cooke (Oregon State), Spencer Weisz (Princeton), Hakim Saintil (South Alabama), Kasim Chandler (Quinnipiac.)
Photo: MyCJSports