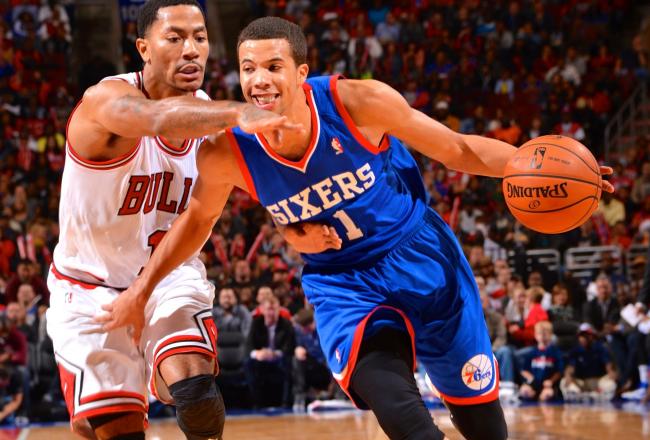 Michael Carter-Williams is out to prove he should've been the No. 1 pick in the NBA Draft.
"Every game I try to prove that I could've been the No. 1 pick,"
Carter-Williams told Yahoo! Sports
. "I have confidence in myself that I should've been." The former Syracuse point guard went No. 11 last June, while UNLV freshman forward
Anthony Bennett
was the surprise No. 1 overall pick. So far, Carter-Williams is averaging 20 points, 7.8 assists and five rebounds for the Sixers, who are 3-1. He won NBA Eastern Conference Player of the Week honors for last week, becoming the first rookie since
Shaquille O'Neal
in 1992 to do so,
and has earned props from fellow Syracuse product
Carmelo Anthony.
Bennett, meantime, is averaging 0.5 points and 3.3 rebounds for the 2-2 Cavaliers.  In his defense, he has been told to focus on his defense, the weaker part of his game, while he plays alongside established players like
Kyrie Irving, Tristan Thompson, Anderson Varejao and Andrew Bynum.
"He isn't that bad and MCW isn't that good," one NBA executive told SNY.tv. If the Sixers are tanking the season in order to get 
Andrew Wiggins
 or 
Julius Randle
 in the Draft — 
as one NBA executive told SNY.tv was the case
 — nobody has informed Carter-Williams. "I'm definitely surprised," Carter-Williams told Yahoo! "I knew we'd be OK. Not as bad as people were saying, but not like this."