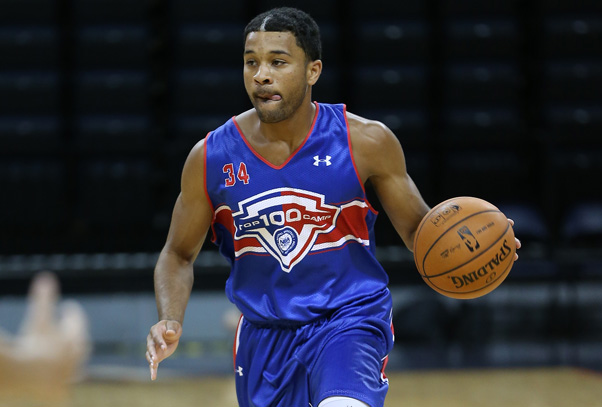 It isn't often that a player decommits from a school and then ends up committing there a second time.
But that's exactly what happened Thursday night when 6-foot-3 shooting guard
James Blackmon Jr.
 of Marion (IN) High pledged to Indiana. Again. He first committed before ever playing a high school game 
but then decommitted from the Hoosiers in August to explore his options,
 This time around, Blackmon Jr. chose the Hoosiers again over Kentucky, Michigan, Michigan State and Kansas. "Just really the way Coach
[Tom] Crean
recruited me as a main priority," he said on ESPNU as he slipped on a Hoosiers baseball cap. "And the way that I see myself impacting the program and keeping Indiana back on top. I think I can get them back on top and where they need to be." Blackmon Jr. visited the Big Ten school for an official last weekend and previously told SNY.tv he would consider going back there if he felt it was the right fit. "A lot of people think just because I decommitted from [Indiana], I'm not looking at them," he told SNY.tv recently. "But they're still one of my top five and if it's the right fit for me I'll definitely go back because I love that place. I'm from Indiana so that's always a plus." Earlier Thursday,
Kentucky got a pledge from Moss Point (MS) shooting guard Devin Booker
, and some had speculated that Kentucky might also land Blackmon Jr. since head coach
John Calipari
had pitched Blackmon Jr. on playing a combo guard position with the Wildcats.
"It was a close call, just put it like that," Blackmon Jr. said of Kentucky. "I almost went there and I just feel that this is where my heart was. And I couldn't imagine myself not playing for the fans of Indiana basketball." Blackmon Jr. joins Virginia shooting guard 
Robert Johnson
 and Massachusetts small forward 
Max Hoetzel
 in Crean's 2014 class. "I'll be real active trying to get other players and I think that my decision will impact other players to come," Blackmon Jr. said of recruiting other players. For now, Indiana has landed a home-state star and a great shooter. "James Blackmon is one of the best shooters in the country," said longtime New York recruiting expert 
Tom Konchalski,
who covered
James Blackmon Sr.
in the 1983 McDonald's All-American Game. Konchalski said Blackmon Sr., who went on to play for Kentucky, was the best guard in a game that also included
 Pearl Washington
and
Kenny Smith.
"I never saw a better guard at Five Star [Basketball Camp] than James Blackmon," Konchalski said. "[The son] carries himself the same way, he runs the same way and he shoots the same way. I think the father was a little more explosive athletically than the son, but he's a shooter. When you say Hoosier, you think shooter. "He's a shooter and the best thing he does is put the ball in the basket."