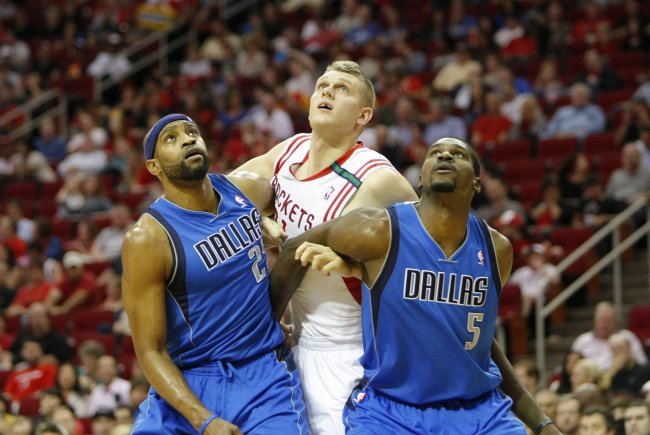 NEW YORK
— In his first day as a member of the Knicks' 15-man roster,
Cole Aldrich
got a DNP-Coach's Decision.
But the news of the day for the 6-foot-11 former Kansas standout was that he made the cut — outlasting fellow training-camp bigs
Ike Diogu, Josh Powell and Jeremy Tyler,
all of whom were waived by the Knicks on Friday
. Knicks coach
Mike Woodson
pointed out that Tyler is injured (foot) and is still "4-5 weeks away" from playing, and that Diogu is more of a 4 than a 5 even if he outplayed Aldrich in the preseason. "Cole's mainly a 5 that can play the 5 spot," Woodson said. "That's why I elected to keep Cole." The No. 11 pick in the 2010 NBA Draft, Aldrich averaged just 0.8 points and 4.2 rebounds in the preseason, while the smaller Diogu averaged 7.2 and 4.0. "I feel like I had a good preseason, a good camp," Aldrich said at his locker 
before the Knicks lost to Kemba Walker and the Charlotte Bobcats, 85-83, in their final preseason game
. "I can continue to work, continue to grow with these guys and get used to their playing style. It's always hard to come in and play with guys you haven't played with before." If he makes the final roster by Monday's deadline, he could get some time backing  up
Tyson Chandler.
The Knicks will also use
Amar'e Stoudemire
and
Kenyon Martin
in the frontcourt, but Woodson has said he won't play either in back-to-backs and plans to manage their minutes due to injury. That's where Aldrich could come in handy. "I know what I need to do to help this team win, to come in whenever I get minutes, come in to rebound, run the floor, defend, blocks shots," Aldrich said
.
"That's the type of player that I am."
There will be nights when Stoudemire and/or Martin is sitting on the bench, and that's when Aldrich needs to give the Knicks quality minutes backing up Chandler. "We got a bunch of great big guys, Kenyon, Amar'e, Tyson,
Metta [World Peace]
 I guess we can even consider a big guy," Aldrich said. "We got a bunch of big guys and we all know there's sacrifices and you gotta just come out when your name's called and go out there and play."