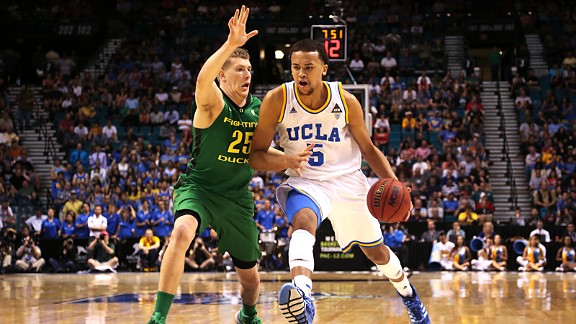 Kyle Anderson
on Tuesday was named to the 2013-14 Bob Cousy Award Watch List, which is a pretty nice way for the Fairview, N.J., native to begin his sophomore season at UCLA.
"It's pretty cool," Anderson told SNY.tv by phone. "It's a list of a bunch of other good players so to see my name up with them is pretty cool." The Bob Cousy Award is presented annually to the nation's top point guard by the Basketball Hall of Fame, yet the 6-foot-9 Anderson spent part of his freshman season playing out of position at the 4 under former coach
Ben Howland.
With new coach
Steve Alford
now in charge in Westwood, Anderson figures to have the ball in his hands more often. "Yeah, I'm looking forward to it," Anderson said. "I wouldn't give me the exact label of a point guard but just looking forward to having the ball in my hands a little bit more." Added teammate
Jordan Adams
: "I think that's when Kyle is at his best, when he has the ball in his hands and not setting screens most of the time. With him being our primary one this year, I think that's what he wants to do and I think ultimately that's what coaches and the team want, having him with the ball in his hands." Running the point for Hall of Fame coach
Bob Hurley
at St. Anthony, Anderson went 65-0 in two seasons at the Jersey City school, winning back-to-back New Jersey Tournament of Champions titles. He then chose UCLA over Seton Hall and others, and joined a heralded recruiting class that eventually included
Shabazz Muhammad, Tony Parker
and Adams. Yet Howland used
Larry Drew II
at the point for part of last season, moving Anderson to the power forward spot. He averaged 9.7 points, 8.6 rebounds and 3.5 assists as a freshman and was the only player in the Pac-12 Conference to rank in the top 10 in rebounds and assists per game. He also ranked fifth in steals (1.8) and fifth in assist-to-turnover ratio (1.7).
Asked if it was frustrating having to play the 4, Anderson, the consummate team player, said, "Not at all. It was just something I had to add to my game. It's kind of a challenge that I was willing to take on." UCLA was bounced in the second round of the NCAA tournament by Minnesota, Howland was fired and Muhammad headed to the NBA after what was generally regarded as a disappointing season. UCLA is ranked No. 23 in the initial Coaches' Poll, and despite some ribbing from his crosstown rival, USC coach
Andy Enfield
, Alford promises to play an up-tempo style, which suits Anderson's style of play. As a tall guard, he can see over opposing defenses and get the ball upcourt quickly. "We know what our style is," Alford said at Pac-12 media day, according to the L.A. Times. "We're going to be up-tempo. We're going to be fast-paced. Kyle would tell you how we play. If you look at the numbers my six years at New Mexico, those numbers will emulate that." Last month,
Kyle Anderson Sr.
,
told ESPN.com
that this would likely be his son's final season in college, and that he would enter the NBA Draft in 2014. Yet unlike Oklahoma State guard
Marcus Smart
, a projected lottery pick in 2013 who opted to remain in college until the 2014 Draft, Anderson is
currently projected as the No. 57 pick in the 2014 Draft by DraftExpress.com
. Asked if he feels any pressure to perform this year given the news that he will likely come out after this season, Anderson said he likes pressure.
"No, I think that takes a lot of pressure off of me," Anderson said. "Just focus more on the season and help my team be the best we could be. I think I play better under pressure subconsciously so I don't really look at it as a pressure situation. I'm just willing to focus on what we gotta do and just focused on the UCLA Bruins." Asked if he definitely plans to come out after his sophomore year, Anderson said: "I'll let let that take care of itself after. I'm just focused on my team." Anderson is an extremely talented ball-handler with a high basketball IQ, but his nickname is "Slo-Mo" and there have always been questions about what position he can best defend. "We've already labeled Kyle," Alford said at Pac-12 media day. "I mean, your nickname is Slow-Mo. It's not like all of a sudden his nickname is going to change, but you'd be hardpressed to find a better player in our league than Kyle Anderson." NBA scouts tracked Anderson last season and will be doing so again this year to monitor his progress. "I would say Kyle's freshman really had its ups and downs," one veteran NBA scout told SNY.tv. "Overall he had a decent freshman year but not one that would have secured him a Top 15-20 selection in the 2013 NBA Draft. He is a skilled player who needs the ball in his hands to be effective. He has great vision and is an unselfish player. He needs to improve his perimeter shooting, develop a college 3-point shot, and must be able to keep his defender in front of him. I do not think he is going to be the type of player that is going to change the speed of his game but his lack of foot speed and quickness must also improve to be effective as a 3 at the NBA level."
Added a second veteran scout: "He has to have a good year. Alford is tough, so it should be very interesting. The jury is still out on Kyle but everyone will be watching his development closely." Photo: ESPN.com