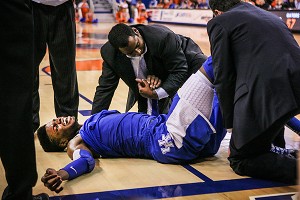 Nerlens Noel's
agent says it's "premature" to report that the Philadelphia 76ers rookie will sit out the entire NBA season while he recovers from ACL surgery.
"I think it's premature to make any determination at this point," agent
Andy Miller
told SNY.tv, echoing comments he made to other outlets. "He will continue to follow rehab protocol and we will take each day one step at a time." Sixers coach
Brett Brown
said Monday that the 6-foot-10 Noel — the No. 6 overall pick in the NBA Draft after his freshman year at Kentucky — would likely miss the whole season. "I doubt, everybody doubts that he's going to play this year," Brown said,
according to ESPN.com
. "We don't want to waste this year. I think from a skill perspective, it's an opportunity for us to break down his shot, really work on his free throws and start a little bit from ground zero." The Sixers are expected to be one of the NBA's worst teams with or without Noel. Without him for the whole season, it could help them get in position for the No. 1 pick in the 2014 NBA Draft — expected to be Kansas freshman
Andrew Wiggins
, or possibly Kentucky frosh
Julius Randle.
Chicago Bulls guard
Derrick Rose
sat out all of last season after tearing his ACL during the playoffs in 2012, while Knicks guard
Iman Shumpert
returned in January after tearing his the same day as Rose. Rose has returned strong during this preseason. Noel tore his ACL Feb. 12 and was originally expected to return in 6-8 months. "Definitely you gotta be careful with this injury because it takes a while to come back,"
Noel told ESPN in May
. "You don't want to blow that away just wanting to get back."