College basketball season tips off Friday with a slew of games — and perhaps nobody is happier than Jon Rothstein, who has kept us posted on the countdown all summer…on a daily basis.
With that in mind, here are five key storylines entering the 2013-14 college basketball season.
1. KENTUCKY'S DREAM TEAM
Kentucky's roster includes four players projected as first-round picks in the 2014 NBA Draft by DraftExpress.com, and three others picked as first-rounders in 2015. Freshman forward
Julius Randle
is projected as the No. 2 pick next year, followed by freshman point guard
Andrew Harrison
at No. 8, sophomore center
Willie Cauley-Stein
at No. 16 and sophomore forward
Alex Poythress
at No. 28. Freshmen
Dakari Johnson, Aaron Harrison and James Young
are projected to go 21-23 in 2015.
With so much pro talent,
NBA scouts have joked that they will be renting apartments in Lexington this year
to assess Calipari's latest crop of one- and two-and-doners.
The Wildcats have been picked as the preseason No. 1 team by numerous publications and outlets, and are expected to challenge for Calipari's second NCAA championship in three years. The 2011-12 team may actually serve as an accurate reference point for this year's team since that team had older leaders in
Darius Miller, Doron Lamb
and
Terrence Jones
 to complement the freshmen sensations
Anthony Davis, Michael Kidd-Gilchrist
and
Marquis Teague
. In addition to all the talented frosh, this year's Kentucky squad also has some older leaders in Cauley-Stein, Poythress and seniors
Jarrod Polson
and
Jon Hood.
Will Kentucky go undefeated, as some have wondered? Probably not given its schedule. But we should know a lot more about the Cats after they face Michigan State (Nov. 12), North Carolina (Dec. 14) and arch-rival Louisville (Dec. 28) in the first couple months of the season. Between them, Calipari's Kentucky program and
Rick Pitino's
Louisville outfit have won the last two national championships and it wouldn't surprise us if those two ended up fighting it out for the crown in 2014.
2. DIAPER DANDIES EVERYWHERE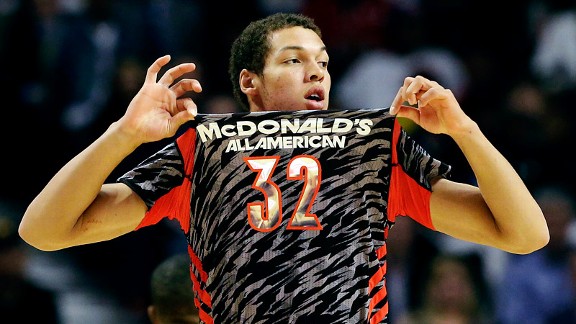 Six of the projected first 10 picks in the 2014 NBA Draft by Draft Express will be Diaper Dandies this season.
Andrew Wiggins
of Kansas is widely regarded as the future No. 1 pick, followed by Kentucky Randle at No. 2, Arizona's
Aaron Gordon
at No. 4, Kansas'
Joel Embiid
at No. 6, Duke's
Jabari Parker
at No. 7 and Kentucky
Andrew Harrison
at No. 8. Kansas'
Wayne Selden
is projected at No. 14, giving the Jayhawks three potential one-and-done players in the top 14 picks. College basketball fans will get an early look at six of these seven in one location at the Champions Classic Nov. 12 in Chicago. In one game, Michigan State meets Kentucky and its slew of baby-faced stars. In the second game, Kansas — featuring Wiggins, Embiid and Selden — will take on a Duke team that will showcase Parker and Mississippi State transfer 
Rodney Hood
, who may well be Duke's best player. It will certainly be interesting to see how Wiggins and the others progress as the year moves along. Which Diaper Dandies will match or exceed the huge expectations facing them and which will shrink in the face of the massive hype? "I believe going into the college season that these six will be talked about over the first two months extensively," one veteran NBA scout told SNY.tv. "I think too much is being made of how elite these six are in that they are all being made out to be future NBA stars, cannot mss and franchise-changing players. I am not a believer of TANKING games to get a better draft pick. It will turn out that 1-3 of these six will not live up to the hype and 1-2 will exceed expectations and 1 will possibly be a star. Not sure yet which one of these six will be the potential star though a lot is being made of Wiggins as a potential star which remains to be seen."
3. FINAL FOUR TEAMS RELYING ON NEW POINT GUARDS
As Myron Medcalf of ESPN.com pointed out
, all of last year's Final Four teams — Louisville (
Chris Jones
), Michigan (
Derrick Walton Jr.)
, Syracuse
(Tyler Ennis
) and Wichita State (
Fred Van Fleet
) — will be relying on new point guards. Two of the more intriguing transitions will occur at Louisville and Syracuse, two former Big East teams heading into new leagues with high expectations.
The 5-foot-10 Jones is the reigning National Junior College Division 1 Player of the Year and comes in with an impressive resume. Jones averaged 21.8 points, 5.1 rebounds, 4.1 assists and 3.0 steals as a sophomore last season in leading Northwest Florida State College to a 30-4 record and the second consecutive national runner-up position. He ranked fifth in the nation in scoring and seventh in steals.
"He's probably the best point guard I've seen in a while," sophomore forward
Chane Behanan
said,
according to InsidetheVille.com
. Jones takes over a team looking to repeat as NCAA champions and loaded with returning talent in Behanan, 
Russ Smith, Luke Hancock, Montrezl Harrell
and
Kevin Ware.
Some, including former Louisville players
Peyton Siva
and
Gorgui Dieng,
believe Louisville could be even better this year than it was last. "People haven't seen Chris and a lot of people don't know who he is, but he can shoot, can really score and is as quick — if not quicker than Russ,"
Siva said
. "He's got a bulldog mentality and loves to pick guys up full-court. He's shorter than me, but he's so strong and athletic and won't be pushed around. He can go for 30 any night."
Meantime, Ennis takes over for
Michael Carter-Williams
as Syracuse moves into the ACC.
Playing for Canada this summer, the 6-2 Ennis led the FIBA U19 World Championship in scoring at 20.9 points per game, while averaging 4.0 rebounds, 2.8 assists and 1.1 steals in nine games. He has already played with elite talent like Wiggins and
Anthony Bennett,
the No. 1 pick in this year's NBA Draft, and has quickly earned the respect of Orange head man
Jim Boeheim.
"We've had freshman start starting with
Pearl [Washington]
and
Adrian [Autry], Jason Hart, Jonny Flynn, Brandon Triche
," Boeheim told SNY.tv. "We've hd a history of freshman point guards that have started and done extremely well and I think the key is that they have veteran guys with him. And Tyler has the veteran guys with
C.J. [Fair]
and
Baye [Keita
], I think that will make his transition easier. "He's a very mature player. On the trip [to Canada] he showed that he takes care of the ball, makes good decisions. He is one of those freshman that's more ready than other freshmen might be." Ennis isn't projected as a one-and-done but it says here that he could be with a strong season at Syracuse.
4. NEW LEAGUES, NEW RIVALRIES
Quick, can you name the 10 teams in the American Athletic Conference?
What about the 10 teams in the new Big East? How about the 15 teams currently in the ACC? The bottom line is this: Having added Syracuse, Pittsburgh and Notre Dame (and Louisville in 2014) to a mix that includes Duke and North Carolina, the ACC is now unequivocally the best basketball league in the country, bar none. "For us, we've summed it up as we're going from the best conference to the best conference," Pitt coach
Jamie Dixon
told SNY.tv this summer
. "There may be some differences, but the main thing is we'll be playing in the top conference in the country. That's what we want for our school, that's what we want to tell recruits and that's what we want for our fans." Look for Syracuse and Duke to challenge for supremacy of the new-look ACC this year, with those two meeting twice this year — Feb. 1 at the Carrier Dome and Feb. 22 at Cameron. Meantime, the American is a league in transition. This year the league should actually be pretty interesting, what with Louisville, Memphis, UConn and Cincinnati figuring to make the NCAA Tournament in a league that also includes
Larry Brown
and SMU and
Eddie Jordan
and Rutgers. Having lost all the football schools, the Big East is now a 10-team, basketball-only outfit that has added Butler, Creighton and Xavier. Especially in this first year, the Big East needs old stalwarts like St. John's, Georgetown and Villanova to do well to give the league legitimacy.
St. John's has as much talent as any team in the Big East,
and should contend along with Marquette and Georgetown for the league title
.
5. NEW FACES, NEW PLACES
As usual, there were a slew of Division 1 coaching changes in the offseason, but perhaps none were more significant than the ones at UCLA and USC.
Steve Alford
takes over for the fired
Ben Howland
at UCLA, while
Andy Enfield
and his "Dunk City" offense came to USC from Florida Gulf Coast. Alford takes over an NCAA Tournament team that could have better chemistry now that
Shabazz Muhammad
is in the NBA. The Bruins return a talented core in the
Wear twins, Kyle Anderson, Jordan Adams, Norman Powell and Tony Parker
— who has reportedly slimmed down – and adds several key freshmen. "The thing I like about this team is they know how to win and they're used to winning,"
Alford told Jon Rothstein
. It will be interesting to see where Alford plays the 6-9 Anderson, the former St. Anthony star who is best suited to playing point guard but who played off the ball at the four last year when
Larry Drew II
was on the team. "He can play any position other than center," Alford told Rothstein. "He's so smart. He has a great feel." USC is in rebuilding mode but Enfield, like Alford, wants to recruit the top talent in Southern California to build going forward. USC has already landed pledges from Florida power forward
Malik Price-Martin
and Southern California point guard
Jordan McLaughlin.
"We think we can win a national championship just by recruiting Southern California kids," Enfield told Rothstein.
Other notable national changes:
 Buffalo (Bobby Hurley), Butler (Brandon Miller), Minnesota (Richard Pitino), Rutgers (Eddie Jordan), Texas Tech (Tubby Smith).
On the local level:
FDU (Greg Herenda), Hofstra (Joe Mihalich), Siena (Jimmy Patsos).