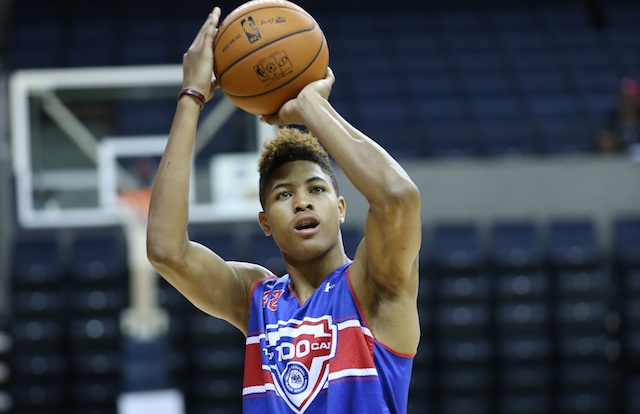 Kentucky and Kansas have emerged as the top two contenders for Findlay Prep small forward 
Kelly Oubre,
who had a breakout summer and
is projected as the No. 13 pick in the 2015 NBA Draft
.
"It's all about fit, all about vision for my son, also about him having a chance to display his talents, and I hold those schools in high regard,"
Kelly Oubre Sr. told the Courier-Journal
. "I deal directly with them. At this point, Kansas and Kentucky are pretty much on a level playing field. … Kansas and Kentucky have piqued Kelly's interest as potential landing spots." The 6-foot-6 Oubre cut his list to eight schools in July — Kansas, Kentucky, Louisville, Georgetown, Oregon, UNLV, Connecticut and Florida — but only has two official visits set as of now, to Kansas Oct. 4 for "Late Night in the Phog" and to Kentucky Oct. 18 for "Big Blue Madness. The Courier Journal reported that Kentucky coach J
ohn Calipari
visited recently with both Oubre at Findlay Prep — where coaches are allowed to meet players but not watch them work out, per a recent NCAA directive that also impacts Huntington (W.V.) Prep — and Oubre Sr. in the Houston area. "He fits their type of style," Kelly Sr. said Calipari told him. "He is a very versatile ballplayer. He can complement players. He has experience playing with big men. … He's played on the perimeter, and he's played in the post. … Cal likes the versatility in Kelly's game, and he can play him at multiple positions. He can defend multiple positions." Kentucky is not recruiting Oubre's Findlay Prep teammate
Rashad Vaughn
, considered the top shooting guard in the nation, but the Wildcats are in the mix for several elite wing players, including Oubre,
James Blackmon Jr.,
and
Stanley Johnson.
Blackmon Jr. and Johnson are both expected to visit Oct. 18.
Oubre Sr. said his son wants to compete for a national championship and knows Kentucky is capable of doing that year in and year out. "He fits their type of style," Kelly Sr. told the paper. "He is a very versatile ballplayer. He can complement players. He has experience playing with big men. … He's played on the perimeter, and he's played in the post. … Cal likes the versatility in Kelly's game, and he can play him at multiple positions. He can defend multiple positions." Meantime, Kansas —
which did make Vaughn's list of seven schools
— also fits a lot of Oubre's criteria, too. "Kansas, they are definitely going to be there in my top [list]," Oubre told SNY.tv this summer. "I love the offense of Coach 
[Bill] Self."