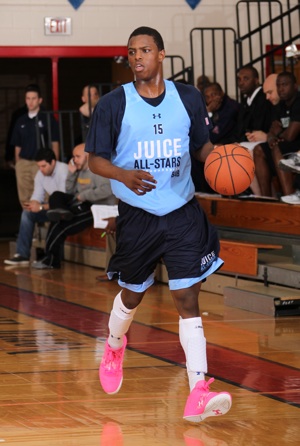 St. John's coach
Steve Lavin
and Minnesota coach
Richard Pitino
were the latest coaches to stop through Lincoln High School on Tuesday and watch 2014 guard
Isaiah Whitehead.
Lincoln coach
Tiny Morton
said he's been hearing a lot from those two schools, as well as Louisville, Syracuse and Texas. Arizona, Kentucky and UCLA have also been linked to the 6-foot-4 Whitehead, the latest Lincoln star after
Stephon Marbury, Sebastian Telfair and Lance Stephenson.
St. John's is the hometown school and will need to add numerous players in the 2014 and '15 classes and landing Whitehead would be a major get. Syracuse will always be a factor and has already landed 2014 New York native
Chris McCullough
of Brewster (N.H.) Academy, as well as New Jersey's
Tyler Ennis
of St. Benedict's Prep and
Tyler Roberson
of Roselle Catholic in 2013. Under Pitino, Minnesota is now in play with some big names like
Rashad Vaughn
, and figures to be more involved in New York and New Jersey with both
Kimani Young
and
Dan McHale
on staff. With Louisville involved, Whitehead's recruitment also sets up a
Rick Pitino
vs. Richard Pitino scenario. "[His recruitment] is probably going to pick up," Morton told SNY.tv. "This is when most of the coaches get serious, when guys go into their senior year. I think he realizes it's going to pick up." Whitehead plays on the wing at Lincoln, but Morton uses him all over the place. "If he adds some strength and if he's able to play the point a little more before he goes to college, I think he can be a combo going to college," he said. Whitehead will play the EYBL circuits with the Playaz Basketball Club and with the Juice All-Stars for other events, and you can expect to see the aforementioned schools following him.
Photo: Kelly Kline / Nike