[youtube=http://www.youtube.com/watch?v=5PE44ahgxiQ&w=560&h=315] We won't know where
Andrew Wiggins
is going until he makes his official announcement, but he sure seems excited about Kentucky's potential. Speaking in the above video at the McDonald's All-American Game, Wiggins gushed about Kentucky's chances if he were to join a group that already includes six McDonald's and Jordan Brand All-Americans. "Oh, that would be crazy," said the 6-foot-8 Wiggins, the projected No. 1 pick in the 2014 NBA Draft. "It would be the best college team ever. We got five, top six players going to one school, so the impact on college basketball would be crazy.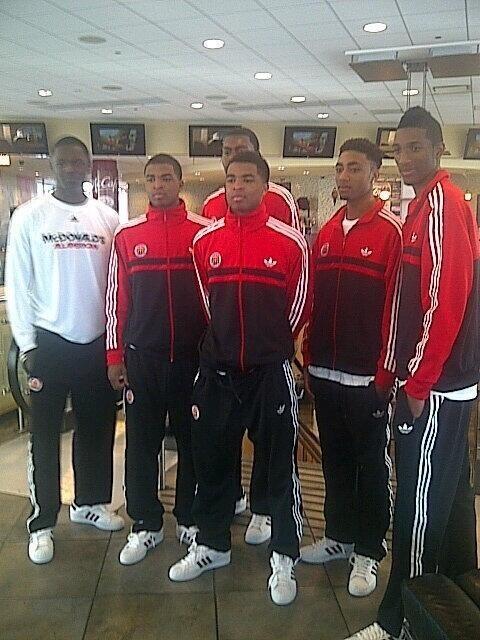 "If I went to that team we'd win it all, for sure, because there's nothing anyone can do with me,
Julius [Randle], the Harrison twins, Marcus Lee, Dakari [Johnson] and James Young.
That's something special." It sure would be. Several NBA executives told SNY.tv that would be the greatest class in the history of college basketball. "There will be scouts at both practices and most of their games next year," one NBA scout said of Kentucky. "They will be recruited heavier than any other team in college going into next year especially if any of their freshman stay in school. Wiggins will be seen by everyone but Kentucky as a team will be scouted more than anyone."
Wiggins is also considering Kansas, North Carolina and Florida State, the alma mater of his parents, former NBA player
Mitchell Wiggins
, and former Canadian Olympic track star,
Marita Payne-Wiggins
, as well as his friend and teammate,
Xavier Rathan-Mayes.
Yet he is spending this week with six — count 'em, six — Kentucky-bound McDonald's All-Americans ahead of Wednesday's game in Chicago. And you can bet they are all in his ear about joining them to make something special happen in Lexington next year. "To be able to battle with those guys every day in practice is only going to make me better and help me prepare for the next level,"
Randle said when he committed
. "Playing with great players was a plus for me, it wasn't a negative at all." Kentucky coach
John Calipari
visited Wiggins last week on the day he was named the Gatorade National Player of the Year, and reiterated that he wanted the Huntington Prep star and that a scholarship would be waiting for him. It sure sounds like Wiggins is ready to take it. **For more stories on Andrew Wiggins, 
click here
.