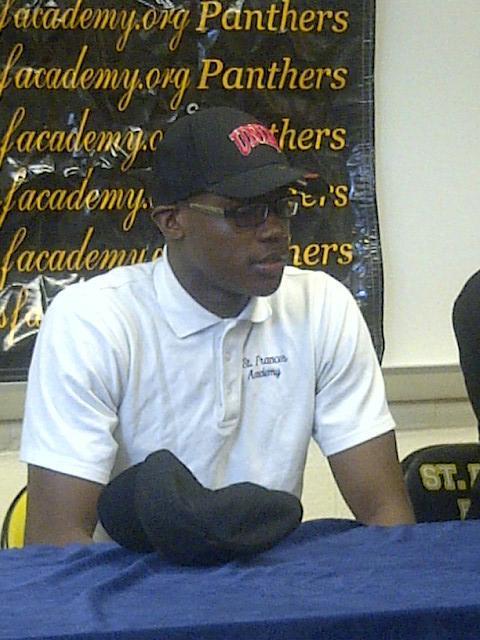 Baltimore St. Frances forward
Dwayne Morgan
is off the board.
The 6-foot-8 forward made the announcement at his high school and also wrote the following post for
ZAGSBLOG.
"Wassup, basketball word? This is Dwayne Morgan. I will be doing my latest blog on my decision for college in the next year. "Today I had to make the biggest decision of my life and I would like to thank all the schools that recruited me for giving me a wonderful experience within the recruiting process. Georgetown, Maryland and UNLV were the final schools involved in my recruitment. There was a lot of hype surrounding me leading down to my decision. "And this is a decision that I have to live with in the near future. In the next year, I have decided to go West and further my education at the University of Nevada Las Vegas. Throughout my recruitment UNLV stayed the most consistent and involved. There were about two games that they were not in attendance for this past summer. "I felt as though being away from home would force me to mature faster. Georgetown continued to recruit me until the last minute and made various efforts to gain my commitment. And I thank
Coach [John] Thompson
and the rest of the coaching staff for this. "Maryland was the school that everyone was expecting me to attend. And as a hometown kid it was expected for me to attend Maryland. But as far as recruitment, Maryland didn't recruit me as hard as UNLV or Georgetown. "I would like to thank
Coach [Mark] Turgeon
and
Bino Ranson
for recruiting me. At the end of the day I feel as though I'm blessed to have this experience because there are many people in the world who don't get this experience.
"Dwayne Morgan signing out here. I'll talk to y'all on my next entry on
ZAGSBLOG."
Morgan averaged 17.2 points, eight rebounds and four blocks last season and inspired comparisons to
Kevin Durant.
"His ceiling is so much higher than a lot of players because he's just coming into his own," said his AAU coach,
Dwayne Wise.
"He's still going to get stronger." St. Frances coach 
Nicholas Myles
 previously told SNY.tv: "I don't think Dwayne has scratched the surface on what he's going to be. He's got so much talent. He does a lot of things well on the floor and it's just going to come with time with him. He's going to be a tremendous basketball player when it's said and done." Morgan is UNLV's first commit in the Class of 2014. Photo: Baltimore Sun