Once the Catholic 7 depart the Big East — which could well be in 2014 — the Big East will have only three current members remaining.
UConn, Cincinnati and South Florida would be the lone holdovers from the current conference. Big East Commissioner
Mike Aresco
is
on record saying he wants the league to be able to keep the name
, but the Catholic 7 would also like to take the name with it when they go. At least one legal expert believes the Big East will be able to retain the name despite having only three current members left. "If the Big East continues in its existence, without having seen the contracts, I would imagine that they have the stronger claim because they presently own the name,"
Michael McCann,
a Sports Illustrated legal analyst and writer, told SNY.tv. "If they're not dissolving and they're continuing as an entity, it's still their name. When businesses get smaller, they don't have to give up their names. When law firms lose big portions of their practice to other firms, then the name doesn't  necessarily leave. "My instincts are that the Big East, unless it actually dissolves, would continue to own the name." Keep in mind that the entity then calling itself the "Big East" would include the aforementioned three schools plus the likes of Temple, Houston, SMU, UCF, Memphis, Tulane and East Carolina (football only). Syracuse and Pittsburgh join the ACC next year. Louisville and Notre Dame will join the ACC in 2014, and Rutgers will leave for the Big Ten in 2014. Still, the Catholic 7 — DePaul, Georgetown, Marquette, Providence, Seton Hall, St. John's and Villanova — is also on record saying they would like to take the name with them to a new conference that plans to add 3-5 teams, possibly including Butler and Xavier.
"St. John's would love to keep the Big East name,"
Father Donald J. Harrington
, the St. John's President,
said in December
. Said McCann: "I guess they could claim that [the Big East] is effectively dissolved, that if it goes down to three teams it really isn't the Big East anymore, that it's inconsistent with its charter, that it no longer exists." McCann said it's likely that the two sides will settle, and that the Catholic 7 could potentially receive money — or pay less on the exit fees — to give up the name. "It probably will be resolved through negotiations," he said. "It seems like both sides want it. They will figure out the monetary value of it. This issue gets resolved by exchanging money." Speaking of money, NBC Sports Network has offered the Big East between $20 million and $23 million per year for six years to acquire the league's media rights,
sources told ESPN
. Fox Sports, meantime, is offering the Catholic 7 between $30 million and $40 million a year depending on how many teams are in the league, sources told ESPN. So even if the Catholic 7 doesn't get the Big East name, it looks like they will still be the big winners.
HERE'S HOW THE BIG EAST BASKETBALL LEAGUE WILL LOOK IN 2013-14 (18 teams):
Central Florida Cincinnati UConn DePaul Georgetown Houston Louisville Marquette Memphis Notre Dame Providence Rutgers St. John's Seton Hall SMU South Florida Temple Villanova
AND HERE'S HOW IT TENTATIVELY WILL LOOK IN 2014-15 (9 teams)
Central Florida Cincinnati UConn Houston Memphis SMU South Florida Temple Tulane ***
FIVE STORYLINES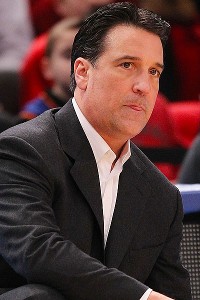 1. Syracuse
 — No. 6 in the new AP poll — got a major boost Sunday when senior forward
James Southerland
was cleared to play after missing six games. The 6-foot-8 Queens native went for 13 points, hitting back-to-back 3-pointers in the second half, as No. 9 Syracuse pulled away from St. John's 77-58. "I was surprised he got going," Syracuse coach
Jim Boeheim
told reporters. "It's tough when you have a bad first half in your first game back. But he got it going." The Orange (20-8, 8-2 Big East) are still without freshman big man
DaJuan Coleman
(knee surgery), but Southerland's return makes them a legit Final Four contender.
2. Our thoughts and prayers go out to St. John's coach
Steve Lavin
, who did not coach against Syracuse because of the death of his father
, Albert "Cap" Lavin
at 82. Assistant
Rico Hines
coached the game while Lavin went home to San Francisco. Cap Lavin was a former player at San Francisco and a longtime English teacher. "Strength and depth, those are the two things that come to mind,"
Steve Lavin told the San Francisco Chronicle of his father in December
. "There's a depth, a gravitas and then a strong will, an inner strength that distinguishes him. "And then what balances that is the charisma, the sense of humor and a spirit of gratitude that lights up a room." 3. Perhaps the most amazing stat from Saturday's five-OT game between
Notre Dame
and
Louisville
was this one.
Garrick Shulman
, who didn't play at all in regulation and had played a total of 18 minutes the previous six games, scored 17 points in the extra periods. And don't forget that
Jerian Grant
went off for 12 points in a 47-second span at the end of regulation to force the first OT. "I've never seen anybody get 12 points in 47 seconds," ESPN analyst
Jay Bilas
told the New York Times. "Maybe it's happened, but I've never seen it in college." 4.
Rutgers
will host
Seton Hall
Tuesday night in a showdown between two teams desperately in need of a win. Rutgers has lost six straight, with their last victory coming Jan. 17 against USF — nearly a month ago. Seton Hall, meantime, has dropped five in a row dating to their Jan. 23 win against, you guessed it, USF. The good news is that one of the Jersey teams will come out of this one with a victory. And no truth to the rumor that the winner gets
St. Benedict's Prep
next.
5.
Joe Lunardi
currently has
eight Big East teams in the NCAA Tournament
, one more than the Big Ten's seven teams. Syracuse and Louisville are both No. 3 seeds, while Georgetown, Marquette and Pittsburgh are 5's. Lunardi has St. John's playing in a play-in game against St. Mary's.
***
WEEKLY HONORS
BIG EAST Player of the Week
KADEEM BATTS, Providence, F, Jr.
Batts scored 25 points and pulled down nine rebounds — both team highs — to lead Providence to a 54-50 win against No. 17/17 Cincinnati in the Friars' only game of the week. He made 10 of his 17 field goal attempts (58.8 percent) and led a defensive effort that limited the Bearcats to a season-low 50 points. Batts has averaged 14.3 points and 7.1 rebounds per game and is one of seven BIG EAST players to rank in the league's top 20 in both scoring and rebounding.
BIG EAST Rookie of the Week
JAKARR SAMPSON, St. John's, F, Fr.
Sampson averaged 19.5 points and 6.0 rebounds while shooting 58.6 percent from the field (17-of-29) in a 1-1 week for the Red Storm. He had 18 points and six rebounds in a 71-65 win against Connecticut and had 21 points with six boards in a 77-58 loss at Syracuse. Sampson, who has led St. John's in scoring in each of his last three games, has averaged 14.8 points and 6.6 rebounds per game this year.
BIG EAST Honor Roll
SHABAZZ NAPIER, Connecticut, G, Jr.
Averaged 18.0 points and 7.0 assists in a 1-1 week.
OTTO PORTER, JR., Georgetown, F, So.
Scored 19 points with 14 rebounds in a 69-63 win at Rutgers.
CHANE BEHANAN, Louisville, F, So.
Averaged 19.0 points and 11.0 rebounds in a 1-1 week. Had 30 points and 15 rebounds in a five-overtime loss at Notre Dame.
C.J. FAIR, Syracuse, F, Jr.
Averaged 17.5 points and 9.5 rebounds in a 2-0 week.
DARRUN HILLIARD, Villanova, G, So.
Averaged 17.0 points and shot 68.4 percent from the field in a 2-0 week.
 ***
POWER RANKINGS
1. Syracuse (20-3, 8-2) 2. Louisville (19-5, 7-4) 3. Marquette (17-5, 8-2) 4. Georgetown (17-4, 7-3) 5. Pittsburgh (20-5, 8-4) 6. Notre Dame (19-5, 7-4) 7. Cincinnati (18-6, 6-5) 8. UConn (16-6, 6-4) 9. Villanova (15-9, 6-5) 10. St. John's (15-9, 7-5) 11. Providence (12-11, 4-7) 12. Rutgers (12-10, 3-8) 13. Seton Hall (13-11, 2-9) 14. DePaul (10-13, 1-9) 15. USF (10-13, 1-10) ***
PREVIOUS BIG EAST BREAKDOWNS
Week 1: 
Click here
Week 2: 
Click here
Week 3: 
Click here
Week 4: 
Click here
Week 5:
Click here
Photo: Getty Images