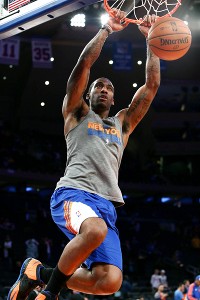 With a depleted frontcourt, Knicks coach
Mike Woodson
hopes
Amar'e Stoudemire
will make his season debut New Year's Day against the Portland Trail Blazers.
In the wake of Friday night's 106-105 loss to the Sacramento Kings, Woodson told reporters his plan was to have Stoudemire practice twice before the Portland game. "Those two practices will give us some indication of where he is," Woodson said,
according to the New York Times
. "I'm going to put him through a full practice in terms of running up and down and banging some with him, too. Hopefully, there will be no setbacks, and he'll be ready to go New Year's Day." Stoudemire has not played yet this season as he recovers from an offseason knee debridement.
Carmelo Anthony
could also return from a hyper-extended knee against Portland, meaning the Knicks would have both stars in the lineup for the first time since last year's playoff loss to the Miami Heat.
Rasheed Wallace
also said he's anxious to return from a stress fracture in his left foot. "I'm very antsy about it," Wallace said, per the Times. "Very antsy, especially when we play big games like we did against the Lakers. The nail-biter against Phoenix the other night. It's not up to me, though. It's up to the doctors."