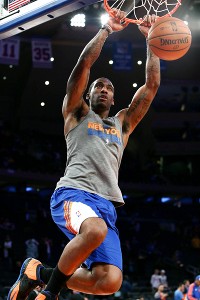 Amar'e Stoudemire
could return on New Year's Day.
The Knicks' forward
told Newsday that date was "a possibility
." "Obviously, coming back from an injury, you have to slowly build your way up to get back to where you once were," he said yesterday, according to reports, "so there's no pressure right now of starting. I think it's more so about continuing to win—keep that momentum going and keep guys positive and feeling energetic about the game." Knicks coach
Mike Woodson
said prior to the current three-game West Coast swing that he didn't think Stoudemire would be available for the trip. The Knicks first game after the trip is the Jan. 1 game against Portland at the Garden. When he does return, Stoudemire has said he's willing to come off the bench.
Carmelo Anthony
said he
spoke with Stoudemire about that matter
, begging
the question of whether it was Stoudemire's idea or Melo's
. The Knicks are 20-8 entering tonight's game at Phoenix.