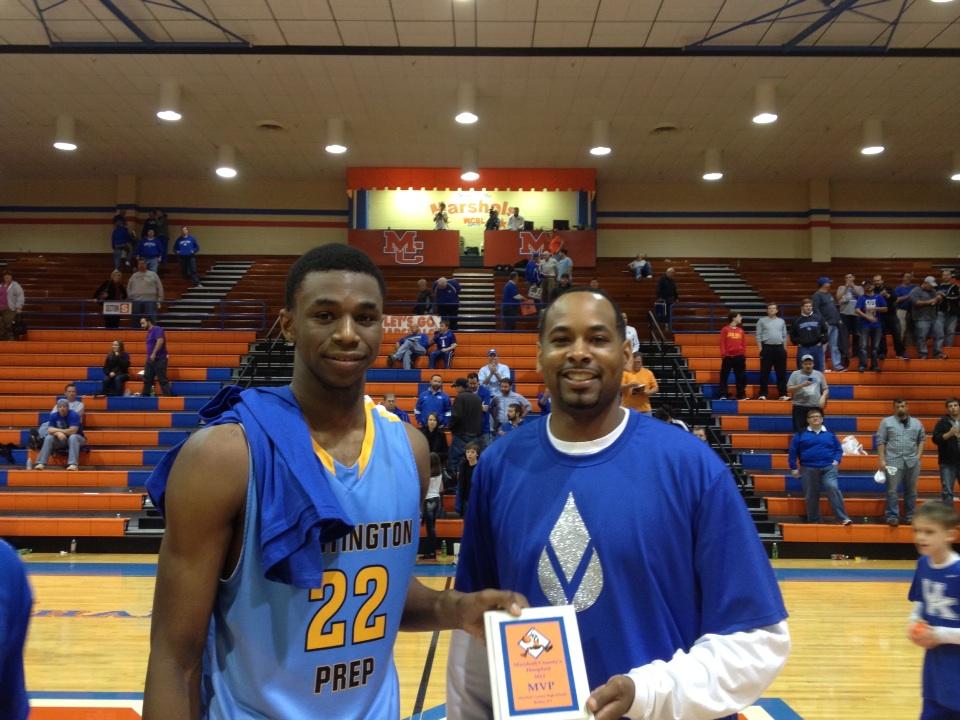 After getting a good look at the Harrison twins this weekend at the Marshall County Hoopefest,
Andrew Wiggins
said the words that must make Kentucky fans melt.
"The [Harrisons) are great. I could see myself playing with them in the future," Wiggins
told Steve Jones of the Courier Journal
. "They love to pass. They can score, and scorers take pressure off me to score." The 6-foot-8 Wiggins made the comments after going for 25 points and 9 rebounds as Huntington (W.V.) Prep beat Briarcrest Christian, 74-40, Saturday evening. He was presented with his second MVP award in two nights by former Kentucky star
Derek Anderson,
as seen in this photo by Jones. After the game, Wiggins signed autographs for a slew of Kentucky fans.
Andrew and Aaron Harrison
committed to Kentucky in October, and were later followed by shooting guard
James Young
and power forward
Marcus Lee.
If Wiggins were to land at Kentucky, head coach
John Calipari,
whose No. 8 club lost at home to Baylor, 64-55, Saturday — snapping a 55-game home-winning streak — would have Wiggins, Young and Aaron Harrison all on the wing. He has been known to play talented players at the same position on the floor together at the same time, but playing all three of those guys might present challenges. Wiggins is also considering Florida State, Kansas, North Carolina and Ohio State.
He will take an official visit to Florida State Tuesday and Wednesday of this week with his parents, both of whom are FSU alums
. Huntington coach
Rob Fulford
said that when Wiggins does make his mind up about college, his announcement won't necessarily be on ESPN and will be low-profile.
"I know he doesn't want to do that," Fulford told reporters of an ESPN announcement. "He doesn't like the limelight. He doesn't like the attention. And we're not going to push him to do that. "He's going to get enough TV time in his career that he doesn't need to do a press conference on where he's going to school if he doesn't want to."