NEW YORK
—
Lance Stephenson
left his lasting impression on the Knicks Sunday afternoon in the form of seven stitches on the right side of
Jason Kidd's
shaved head.
During the first quarter of the Knicks' 88-76 victory over the Pacers at Madison Square Garden, the former  Lincoln High School star raced out to the wing to defend Kidd's pump fake and ended up banging a tooth on the veteran's dome. "His teeth met my head and I got stitches," said Kidd, who made three foul shots before departing the game with 8:48 left in the first period to get stitches. Kidd then returned in the second period wearing a crooked white headband that covered the injury. Said Stephenson: "I went for the head-fake and my tooth hit his head, so my tooth went back, but I'll be alright." Asked about the headband, Kidd said, "Yeah, that's not my style. I'll leave that to the guys who like the headband." Said
Carmelo Anthony,
who led the Knicks with a game-high 26 points and nine rebounds
:
  'It's not a good look…We're not going to allow that." Before the game even ended, a Twitter account called
JKidd's Headband
had already popped up on the Internet. "That's what I hear," said Kidd, who finished with three points and two assists. "Social media works extremely fast and one of the guys said he's ready to carry the headband around." As for Stephenson, who had about 10 family members in the crowd, the return to the building in which he won four New York PSAL titles at Lincoln was not what he had hoped. He finished with four points, five assists, three rebounds and three turnovers, and still hasn't won an NBA game in the Garden.
"It was tough," he said. "It feels like it's hard for me to get a win in here, but I'm going to  just stop thinking about it. Next time I come in this building, try to be focused and try to be more aggressive.
"I feel like I just put too much pressure when I come in here." Despite his rough return home, Stephenson has, by all accounts, come a long way from the player who was drafted by the Pacers in 2010 after a one-and-done year at Cincinnati. "He was kind of like a class clown when he first got here," Pacers coach
Frank Vogel
told SNY.tv before the game. "Not a troublemaker but a lot of goofing off." Despite the backing of then-Pacers President
Larry Bird,
Stephenson, now 22 and the father of two daughters, constantly had to meet with Pacers coaches and executives about his behavior and lack of professionalism, especially during his rookie season in 2010-11. "I think his whole first year it was a series of either player leaders or coaches or front office just making sure we're teaching him the right way to carry about his business," Vogel said.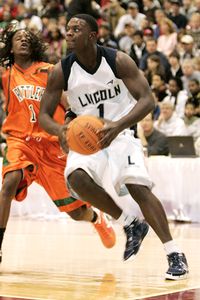 Anyone who followed Stephenson, nicknamed "Born Ready" during his days growing up in Coney Island, can not be surprised by Vogel's comments.
He was always a talented, if raw, player, but also a bit of a knucklehead. So he felt humbled when he joined the Pacers and then played in only 12 games his rookie season, averaging 3.1 points and 1.8 assists. "It humbled me a lot, though," Stephenson told SNY.tv. "It made me work harder and not just sit around and be a waste of talent. It made me go in the gym and keep shooting and getting better and work on my game." Last season, Stephenson played in 42 games for the Pacers, but averaged just 2.5 points and 1.1 assists. Yet Vogel and those around the team believe Stephenson is finally getting the message. "It took time, watching other players and learning from the vets and just talking to them every day," Stephenson said. "And learning when I was watching the games my first two years and I think it paid off." He has started five games at shooting guard in the absence of
 Danny Granger
 (sore left knee), and entered averaging 8.3 points, 2.5 rebounds and 2.3 assists. "He's starting because Danny's out but he's starting because he's played better than any other replacement option for Danny, by far," Vogel said. "But even if Danny was in the rotation he would be getting regular minutes as a backup two." Pacers assistant
Brian Shaw
has been a mentor to Stephenson, and was feeding Stephenson balls to shoot before the game. "He's a great mentor and he helped me improve on my shot," he said. "We're always in the gym together. He's my shootaround partner and we always play games to get me ready for the game so I could be prepared."
Stephenson was coming off a 12-point, 3-assist performance Friday when the Pacers hammered the Dallas Mavericks by 20 points, and his play has served notice.
"He's a lot better than he was a year ago," Knicks coach
Mike Woodson
said before the game. "He's shooting the ball much better. He's starting to find his niche and watching him on tape, his body language, his movement on the offense and defense has gotten better." If Stephenson had stayed at Cincinnati, he would now be a senior and would be playing alongside his best friend,
Sean Kilpatrick
of White Plains.
"Imagine me and him together right now, unstoppable," Stephenson said with a smile. Asked if they could have led the Bearcats to a Final Four, "Born Ready" laughed and said, "Come on, man. We winning it all, we winning it all." For now, he'll settle for just winning an NBA game in the Garden, the place he once dominated in what he called "the greatest moments of my life."
***For my NBA.com Notebook on the game with Notes, Quotes and Video, click here.