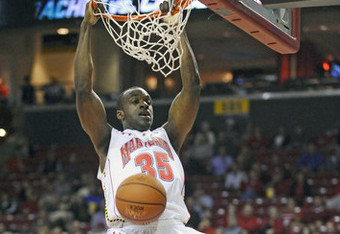 James Padgett
left Brooklyn Lincoln High School in 2008 to play for legendary former Maryland coach
Gary Williams.
Four years later, Padgett will return home with coach
Mark Turgeon
and the Terps when they take on defending national champion Kentucky in a nationally televised game Friday night at the Barclays Center. Thirty-one (31) NBA scouts and executives are expected at the game, Barclays officials told SNY.tv. "I never imagined that I would get the chance to play there," the 6-foot-8 senior said Wednesday. "I am blessed to have this opportunity to go home and open up my senior season there. We are playing Kentucky so it should be a good game. There will be a lot of people there. It is on ESPN so we are all excited for the game." Padgett and his teammates got a dose of good news earlier Wednesday when they learned that Xavier transfer
Dez Wells,
a 6-5 wing, had been cleared to play immediately. Wells became emotional upon learning the news. "Everyone was excited for him, we are happy to have him back," Padgett said. "We know he will be a great addition to our team." He added: "He is very explosive. He is a great teammate and defender. He is doing a great job being a leader. We have a lot of young guys so he is one of the few guys with experience that we have." The addition of Wells, who averaged  9.8 points and 4.9 rebounds per game at Xavier, automatically makes the Terps an NCAA Tournament-type team and one that could make some noise in the ACC in the last year before Syracuse and Pittsburgh join the fray.
"He is a good player," Turgeon said. "He gives us toughness, experience having started 32 games on a top 25 team most of the year. He has played three games in the NCAA Tournament so he understands what it takes. He gives us depth and versatility. I think it helps us defensively and rebounding if I can ever get him to box out. It helps us in a lot of ways. It gives every player more confidence because he makes everyone better around him. He gives every coach on our staff including me more confidence that we can be a good team." He added: "This gives us a chance to be a better team than we would have been without him, that's for sure." As for Padgett, who averaged 8.8 points and 5.8 rebounds last season, Turgeon spoke highly of him
during an interview with SNY.tv in July
. "James has really gotten better," he said then. "He's changed his body, put on like 15-18 pounds this summer of muscle. He looks great, works hard." Padgett won four straight New York PSAL championships at Lincoln alongside
Lance Stephenson
, currently with the Indiana Pacers. With all the NBA scouts on hand on Friday, could Padgett help his own stock with a strong game, and a productive season afterward? "He would have to have a big year but since he is going to be on a team that will get a lot of attention from scouts this year it could be possible," one veteran NBA scout told SNY.tv. "His previous stats are not overwhelming."
For his part, Padgett is excited about the homecoming. "I will have a lot of friends and family at the game," he said. "This is the first game of my senior season so I am excited to get it started."