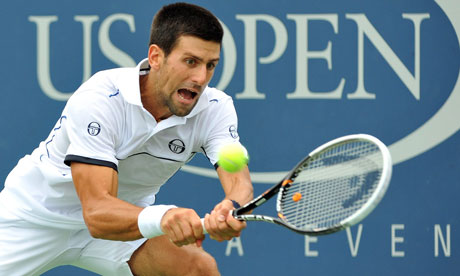 NEW YORK — Novak Djokovic
says the Balkan Wars of the 1990s made Serbian athletes like himself tough, resourceful and, ultimately, successful.
"There is something in the mentality that obviously helps us to be here, helped us to be successful in what we do," Djokovic, born in 1987, said Monday after his 7-6, 6-4, 6-2 fourth-round U.S. Open victory over
Alexandr Dolgopolov
improved his 2011 record to 61-2. "We all experienced the war, we have all experienced the tough times back home, struggles to have the right conditions to become a professional player. "But in the end, those things, when you turn around, make you appreciate life much more. So I think that's an advantage of the mentality." The top-ranked Djokovic was one of three Serbians featured Monday at the Open.
His countryman,
Janko Tipsarevic
, advanced to face Djokovic in an all-Serbian quarterfinal with a 7-5, 6-7 (3), 7-5, 6-2 victory over 2003 runner-up
Juan Carlos Ferrero
of Spain.
"It means there's going to be at least one Serbian in the semifinals, which is great for our country," Djokovic said. "I think this is the first time I play Janko in a grand slam. We are great friends. It's not going to be easy to play him, but look, it's the quarter-finals and we both want to win."
Ana Ivanovic,
another Serb, lost 6-3, 6-4 to
Serena Williams
, everybody's pick to win the women's title. "I think Serbians actually have quite a combustible character," Ivanovic said with a smile after her loss. "Maybe that's good for tennis. Maybe that's something that drives us. "But sometimes we can have fired up emotions out there."
While Tipsarevic was finishing up his match in Louis Armstrong Stadium early Monday afternoon, the line to watch Djokovic's match in Armstrong extended about half a mile through the grounds of the USTA National Center. An announcement went out that seating in the stadium was "extremely limited."
"That's fantastic," Djokovic said. "I was happy to be there. I was happy to experience the Armstrong court again after a while." Djokovic may not be
Jimmy Connors
circa 1991, but he has learned to use his emotions to help manipulate the crowd. After winning the first set in an epic 16-14 tiebreak, he cupped his hand to his ear to egg the crowd on to even louder applause. "It's really nice to be on the smaller court where the crowd is closer to the court where you can feel them," he said. After winning the first set over the younger player, Djokovic gained the upper hand and took control of the match. Ivanovic says his ascension to the No. 1 ranking in the world and his success this year have made Djokovic the most famous man in Serbia, perhaps only second to the president. "Well, I think he's definitely most famous person, you know," she said. "We do have so many followers. I mean, tennis, it became the No. 1 sport in Serbia." Tipsarevic knows he will have his hands full with Djokovic, who is seeking his third major of the year after winning the Australian Open and Wimbledon, but says the fans at home in Serbia will be rooting for both men. "It's going to be shared," he said. "You know, nobody will cheer against a Serbian guy. Maybe a few of them more for me because I'm obviously a big underdog in that match and everybody's generally cheering for an underdog.
"I would say 50/50, really."