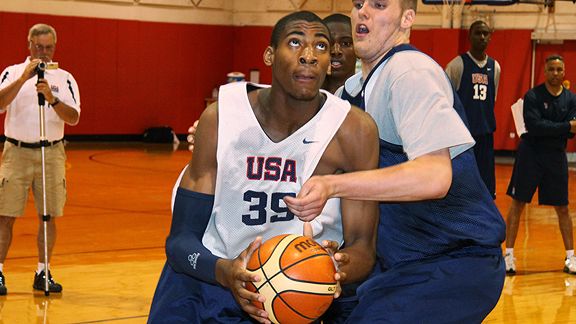 Andre Drummond
is the No. 1 prospect in the Class of 2012, but he's kept is recruitment close to the vest.
As in he hardly ever talks about. Yet he discussed his situation briefly this week at the NBA Top 100 Camp in Virginia,
telling USA Today
he has offers from UConn, Duke, Georgetown, Louisville, North Carolina and Pittsburgh. How does he handle all the attention? "I just shut the whole process down and not talk with anybody," Drummond told USA Today Tuesday at the camp. "I tell them when I'm ready to talk with somebody, I'll let you know." The 6-foot-10 Drummond averaged 15 points, 11 rebounds and four blocks last season while leading St. Thomas More (Conn.) to the national prep championship. He was one of only two 2012 recruits on the USA team that won the under-17 world championships last summer, averaging 8.6 points and 6.8 rebounds. "It was a good experience," Drummond told USA Today. "I played with older guys every day, and they pushed me and showed me what I needed to do to get better. I believe I need to get a better back-to-the-basket game. I've worked on everything else." UConn is considered the favorite for Drummond because he grew up in Middletown, Conn., attended Capital Prep in Hartford and has been to numerous UConn games on an unofficial basis. UConn coach
Jim Calhoun
will likely stay around until at least 2012 to coach incoming guard
Omar Calhoun
of Christ the King and possibly Drummond, too.